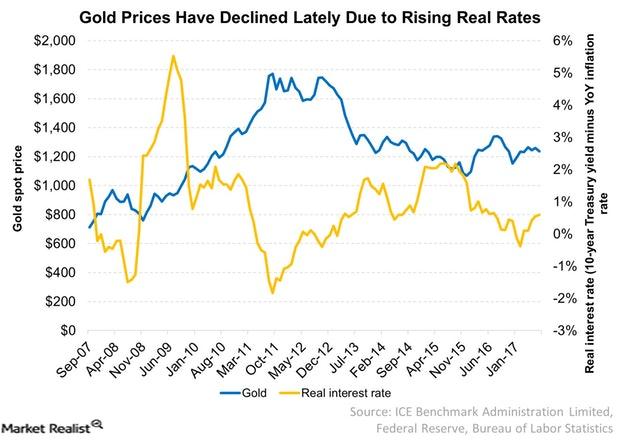 Gold Prices Have Been Flat despite the Weak Dollar
VanEck
Gold Bullion Rallies in July
The monthly low for gold came on July 10 at $1,204 per ounce. Gold then rallied to finish July at $1,269.44 per ounce, a gain of $27.89 (2.25%; YTD gold bullion has gained 10.17%). This was the third time this year that gold has successfully tested the $1,200 level. Although the U.S. dollar had a precipitous fall in July, it was not the primary driver for gold. Thus far in 2017 gold has been responding more to changes in real interest rates. Gold has an inverse correlation to real interest rates, which moved higher early in the month (coinciding with gold lows) before trending lower. The change in direction for gold and interest rates was driven by somewhat dovish Congressional testimony by Federal Reserve Chair Janet Yellen, which the market interpreted as an indication that another Fed rate increase this year is less likely.
Article continues below advertisement
Article continues below advertisement
July Gains Impressive Given ETP Redemptions
July saw heavy redemptions in the gold bullion exchange traded products. Physical demand from Asia is typically low during the summer and there were not any significant moves in futures positioning. Normally this would contribute to price weakness, so July's modest gains for gold are somewhat impressive. It is possible that July's gains were driven by buying in the over-the-counter market (or OTC), however there is no published data for OTC transactions. We do expect that more transparency for the OTC market will be available soon. The London Bullion Market Association (or LBMA) and the London Precious Metals Clearing Limited (or LPMCL) recently began releasing aggregate data on gold inventories in London vaults with a three month lag. Vaulting statistics are a first step and are likely to be followed by trade reporting at a later date.
Market Realist
Gold prices have been flat due to rising interest rates
Gold (IAU) (GLD) prices usually have a strong negative correlation with the US dollar (UUP). Gold, like other commodities, is denominated in the dollar. If the US dollar appreciates, gold prices tend to fall and vice versa.
Despite weakness in the dollar this year, gold prices have been flat to negative since March. Weakness in the dollar has been combined with rising real interest rates, as the above graph shows.
The real interest rate is the difference between nominal interest rates and the inflation rate. In the above graph, we used ten-year Treasury yields (IEF) as nominal interest rates and a year-over-year change in CPI (consumer price index) inflation. As the graph suggests, gold prices have been falling and real rates have been rising. Over the last ten years, real rates have explained 45% of gold's movements.