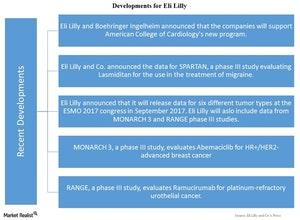 Eli Lilly & Co.'s Recent Developments after Its 2Q17 Earnings
Recent developments
As we discussed earlier, Eli Lilly & Co.'s (LLY) segment-wise performance in 2Q17 was positive for its Human Pharmaceuticals segment, but it was negative for its Animal Health segment. The chart below shows Eli Lilly's recent developments.
Article continues below advertisement
Commercial developments
The recent commercial developments for Eli Lilly include the following:
On July 31, 2017, Eli Lilly and Boehringer Ingelheim announced that the companies would support one of the new programs by the American College of Cardiology. This program would focus on the quality improvements in cardiology, as well as on reducing the risk of cardiovascular diseases in patients with Type 2 diabetes.
Product developments
The recent product developments for Eli Lilly include:
On August 4, 2017, Eli Lilly & Co. announced the data for SPARTAN, a Phase III study evaluating Lasmiditan for the use in migraine treatment. The company announced that the SPARTAN study, the second Phase III study, met its primary end points. Plus, a greater percentage of patients were free from migraine pain after two hours of the first treatment with Lasmiditan, compared to a placebo.
On August 29, 2017, Eli Lilly announced that it would release data for six different tumor types at the European Society for Medical Oncology 2017 Congress scheduled for September 8–September 12, 2017. The company plans to include new data from two Phase III studies—MONARCH 3 and RANGE.
MONARCH 3 is a Phase III study evaluating Abemaciclib as a treatment for HR+/HER2- advanced breast cancer.
RANGE is a Phase III study evaluating Ramucirumab as a treatment for platinum refractory advanced or metastatic urothelial cancer.
To divest company-specific risk, investors can consider the PowerShares Dynamic Pharmaceuticals ETF (PJP), which holds 4.7% of its total assets in Eli Lilly (LLY). PJP also holds 5.3% in Celgene (CELG), 5.2% in AbbVie (ABBV), and 5.1% in Bristol-Myers Squibb (BMY).