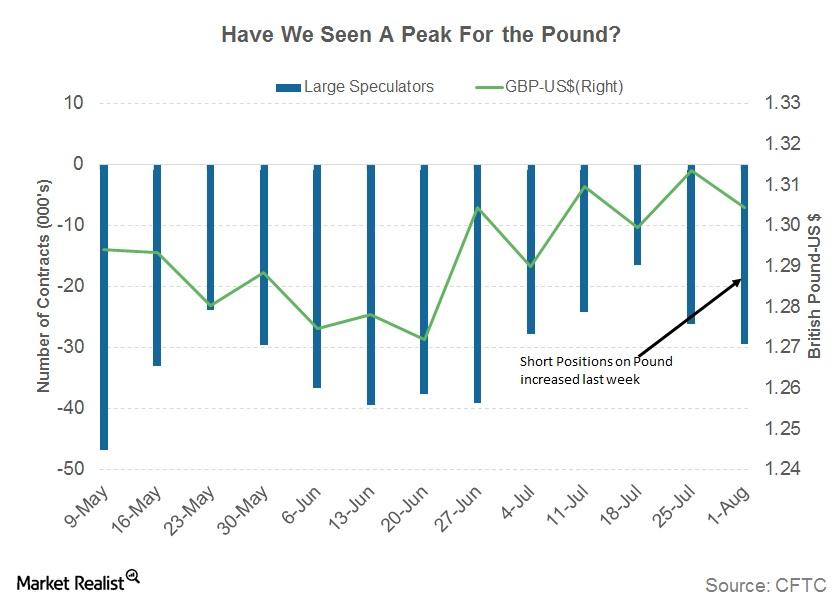 Chart in Focus: A Look at the British Pound
Super Thursday was disappointing for the British pound
The British pound (FXB) had another volatile week as important data were reported during this period. The British pound (GBB) recorded another multi-month high of 1.3266 against the US dollar (UUP) before the Bank of England (or BOE) announced its inflation report and interest rate decision on August 3.
However, this enthusiasm was curtailed after a dovish statement from the BOE. The British currency ended the previous week at 1.3036, depreciating by 0.75% against the US dollar (USDU). The BOE left the interest rates unchanged and cut the forecast for GDP and wage growth.
The central bank also highlighted its concerns about the transition of the new economic relationship with the post-Brexit EU. The central bank members also felt that the spike in inflation was due to the weak British pound and that there may not be further increases in inflation in the near future.
Article continues below advertisement
Article continues below advertisement
This change of tone from the BOE overshadowed all the positive economic data and could mean that we have seen a near-term peak for the pound at 1.3266. British equity markets (BWX), especially the FTSE 100, remained positive in the previous week, reflecting the global sentiment and the possibility of a weaker pound after the BOE statement. A weaker pound makes these companies competitive.
Speculators continued to reduce short positions
According to the latest Commitment of Traders (or COT) report, released on August 4 by the Chicago Futures Trading Commission (or CFTC), pound speculators have added 3,255 contracts against the British pound, taking the net short position to -29,452. A negative figure indicates a short position.
Week ahead for the pound
There is no major economic data to be reported from the UK next week, except for the manufacturing PMI. Last week's development is likely to keep the British pound under pressure during this week as well.