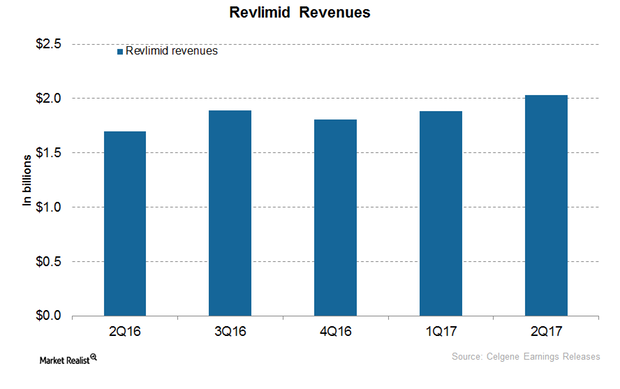 Celgene's Revlimid Witnessed High Growth in 2Q17
By Daniel Collins

Aug. 9 2017, Updated 4:05 p.m. ET
Revlimid revenue trends
In 2Q17, Celgene's (CELG) Revlimid generated revenues of ~$2.0 billion, which reflected ~20% growth year-over-year (or YoY) and ~8% growth quarter-over-quarter. Revlimid contributed to ~62% of Celgene's net revenues in 2Q17. In 2Q17, Revlimid witnessed ~26% growth YoY and 10% growth quarter-over-quarter in the US.
In 2Q17, outside the US, the drug witnessed ~9% growth YoY and ~4% growth on a quarter-over-quarter basis. A one-time event in 2Q16 of a Russia tender impacted Revlimid's 2Q17 YoY revenue growth rate outside the US. In 2Q17, the drug witnessed an international volume growth of 17% YoY and 4% on a quarter-over-quarter basis.
The approval of Revlimid by the European Commission for the treatment of individuals with Newly Diagnosed Multiple Myeloma (or NDMM) after Autologous Stem Cell Transplantation (or ASCT) in February 2017 is expected to drive the drug's revenue growth in fiscal 2017.
Article continues below advertisement
The increasing adoption of the triplet combination of Celgene's Revlimid, Takeda Pharmaceuticals' (TKPYY) Velcade, and dexamethasone could boost the drug's revenue growth. In November 2016, the FDA approved the triplet combination of Revlimid and dexamethasone with Johnson & Johnson's (JNJ) Darzalex. Revlimid could face stiff competition from Amgen's (AMGN) Kyprolis.
Celgene estimated its fiscal 2017 Revlimid sales to be in the range of $8.0 billion–$8.3 billion. The growth in sales of Celgene's Revlimid could boost the Health Care Select Sector SPDR ETF (XLV). Celgene comprises ~3.5% of XLV's total portfolio holdings.
The chart above represents the revenue curve of Revlimid from 2Q16 to 2Q17. To learn more about Revlimid, please read Revlimid Could Continue to Drive Celgene's Revenue Growth in 2017.
MAGNIFY trial
Celgene is conducting extensive trials with Revlimid for label expansion of the drug. The company is conducting the Phase 3b MAGNIFY trial for evaluating the safety and efficacy of the Revlimid and Rituximab combination for the treatment of individuals with relapsed/refractory follicular and marginal zone lymphoma. In June 2017, Celgene presented the interim analysis of the Phase 3b MAGNIFY trial.
On January 9, 2017, the statistical cut-off date, 70% of all follicular lymphoma patients achieved a one-year progression free survival (or PFS). The statistics demonstrated that 65% of double-refractory patients and 49% of early relapse patients achieved one-year PFS.