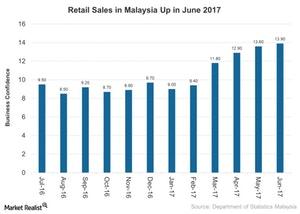 Can Malaysia's Improved Retail Sales Support Economic Growth in 2017?
Retail sales in Malaysia
Retail sales in Malaysia (EWM) rose 13.9% YoY (year-over-year) in June 2017, compared with its 13.6% gain in May 2017. Domestic demand in Malaysia has been improving with rising consumer confidence so far in 2017.
The Malaysian (EEM) economy performed better than market expectations in 1Q17. This improved economic activity was mainly due to stronger domestic demand and a further push from exports.
Article continues below advertisement
Retail sales in June 2017
Retail sales in Malaysia (IEMG) in June 2017 marked the fastest increase we've seen in one year. Meanwhile, wholesale trade grew at a slower pace of 8.4%, compared with 9% in May. The sales of motor vehicles (CARZ) contracted by 4.8% in June, compared with 9% in May. Retail trade rose 1.9% on a monthly basis, compared with 2.7% in May.
The sales values of wholesale and retail trade collectively stood at 96.9 billion Malaysian ringgit (MYR) (about $22.5 billion as of August 11, 2017) in June 2017, or 8.6% higher than in June 2016, according to Malaysia's Department of Statistics. These sales values consist of wholesale trade of 46.9 billion ringgit (about $10.9 billion as of August 11, 2017), retail trade of 38.1 billion ringgit (about $8.8 billion), and motor vehicle sales of 11.8 billion ringgit (about $2.8 billion).
The most positive growth came from retail trade, which grew 13.9% in June. Retail sales are usually supported by the private consumption, which typically boosts the economic growth of a country.
Retail sales in Malaysia grew 3.8% in 2016, mainly driven by a 6.1% increase in private consumption. The improved performance of the retail sector is expected to boost the economic growth of Malaysia for the remainder of 2017.
Robust retail sector in Malaysia
Retail sales in Malaysia are supported by increased tourism and investments by the government. Consumer confidence is also increasing on higher disposable income stemming from the economic reforms undertaken by the government. Efforts to digitalize the Malaysian economy are also expected to benefit the retail sector.
Meanwhile, the recent joint venture between Alibaba's (BABA) financial affiliate, Ant Financial Services Group, and Malaysian bank CIMB aims to provide a mobile wallet and related financial services in Malaysia.
Consumer confidence in Malaysia (EWM) rose to 76.6 in 1Q17, compared with 69.8 in 4Q16. Inflation in Malaysia continues to be low, which should support consumer purchasing power going forward. Notably, many international retailers (XRT) operate through the store and online setup in Malaysia (ASEA). Big names include Parkson (PKSGY) and Tesco (TESO).