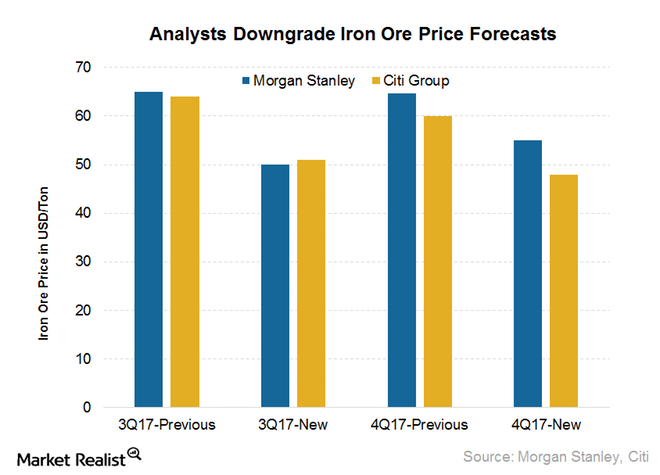 Why Analysts Are Rethinking Their Near-Term Iron Ore Price Forecasts
Goldman Sachs is bullish
Although Goldman Sachs (GS) is bullish on the near-term price forecasts for iron ore, it believes that the pressure could return in the long run. In the near term, it believes that prices could be supported by the better-than-expected demand in China.
Goldman Sachs believes that the supply pressure could build in 2018, driven by BHP Billiton (BHP) and Rio Tinto (RIO). It added that the iron ore prices need to be lower for the surplus supplies of more than 100 million tons to be cleared during 2018.
Article continues below advertisement
Article continues below advertisement
Analysts' short-term and long-term outlooks
BNP Paribas SA has a similar view regarding the short-term outlook for iron ore prices. The firm believes that iron ore prices are undervalued and that they should advance toward the end of the year. BNP Paribas SA expects iron ore prices to hit $80 per ton by the end of 2017.
RBC Capital Markets analyst Paul Hissey also believes that iron ore prices could hold above $70 per ton through December 2017. The broker believes that the current strength in iron ore prices should prompt price forecast upgrades from across the board. RBC's view is that iron ore prices could average $65 per ton for 2017 as a whole.
J.P. Morgan (JPM) is also optimistic about iron ore price prospects as Chinese steel margins remain at multiyear highs.
The other side
Not all analysts are bullish regarding the outlook for iron ore prices (PICK). Barclays is forecasting an average price of $50 per ton by 4Q17. UBS believes that as China's construction activity eases, the prices should slide below $70 per ton in the fourth quarter of 2017. Citigroup (C) also noted that the supplies are "too plentiful."