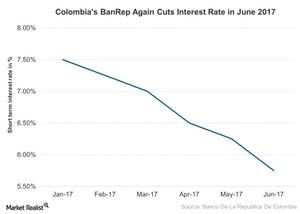 Will Monetary Easing Support Colombia's Economic Growth in 2017?
Colombian economy in 2017
Colombia, an important Latin American (ILF) economy, is currently facing sluggish growth due to a decline in commodity prices (DBC) and political instability. Falling inflation has resulted in easing monetary policy in Colombia (GXG) in 2017.
The Central Bank of Colombia (EEM) cut the key interest rate by 50 basis points to 5.8% on June 30, 2017. The rate cut surprised markets, which had anticipated a 25-basis-point cut in June 2017. The downward trend in inflation has resulted in a sharp reduction in interest rates in 2017. Let's look at interest rates in Colombia in 2017 in the below chart.
Article continues below advertisement
Interest rate cut in June 2017
The lower interest rate in June 2017 has followed a 25-basis-point cut in the May 2017 meeting. The surprising rate cut came as four members voted for the 50-basis-point cut, whereas three voted for a 25-basis-point cut in the June 2017 meeting. Currently, interest rate levels are at their lowest level since December 2015. The supply-side inflationary shocks are expected to remain low, as inflation dropped for 12 consecutive months as of June 2017. Inflation currently stands at 4.0% in June 2017 as compared to 4.4% in May 2017. The economic activity is expected to remain sluggish or perhaps could even worsen in months ahead as per the government officials.
Expectations
The recent quarter's GDP growth showed a weaker performance of 1.1% on a year-over-year basis as compared to 1.6% in the last quarter. An inflation rate above 3% is expected to result in more rate cuts in 2017 to improve economic growth in Colombia (ICOL).
Let's look at Colombia's exports in our next article.