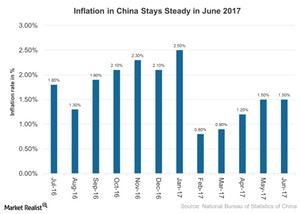 Will China Continue to a See Steady Rise in Inflation in 2017?
By Mary Sadler

Jul. 20 2017, Updated 6:06 p.m. ET
Inflation in China
Inflation in China (FXI) was on a steady rise in June 2017, in line with the market's expectation. China's (MCHI) consumer prices rose 1.5% year-over-year in June 2017, the same pace as in May. The slower rise in consumer prices and the slump in commodity prices helped to keep inflation low in June.
Let's look at the inflationary trend in China over the last year.
Article continues below advertisement
Inflation in June
In June 2017, the inflation rate in China reached its highest level since January 2017, mainly because the cost of non-food items had slowed slightly, and the cost of food had fallen slowly. Food prices fell 1.2%, compared to their 1.6% fall in the previous month. The cost of non-food items rose 2.2%, compared to 2.3% in the previous month.
The cost of consumer goods rose 0.6% in June 2017, compared to 0.7% in the previous month. The cost of services also rose 3% in June, compared to 2.9% in the previous month.
Monetary policy
China's (ASHR) low inflation levels indicate that there's potential for consumer demand to pick up in 2017. The central bank of China is hoping for a rise in the core inflation rate as it shifts from an export-driven economy to a demand-based economy. The official target inflation rate is 3% in China.
Currently, China (YINN) has adopted a tighter monetary policy to curb its increasing levels of debt in 2017. However, recently the People's Bank of China (or PBOC) didn't react to the Federal Reserve's rate hike in June 2017.
The PBOC kept interest rates for its reverse repo operations unchanged at 2.5% for the seven-day reverse repo, 2.6% for the 14-day tenor, and 2.8% for the 28-day tenor. However, in March 2017, PBOC increased interest rates for a few of its open market operations in line with the Fed's rate hike.
Expectations
According to the PBOC, the current macroeconomic situation in China (EEM) doesn't support a further significant rise in interest rates. Following strong 1Q17 growth, recent economic data suggest that growth momentum will continue in the latter half of 2017. Increased economic activity led by increased retail sales and consumer spending should hopefully help to bring the country's inflation close to the target level in 2017.
Let's look at the trade balance in China over the last year in the next article.