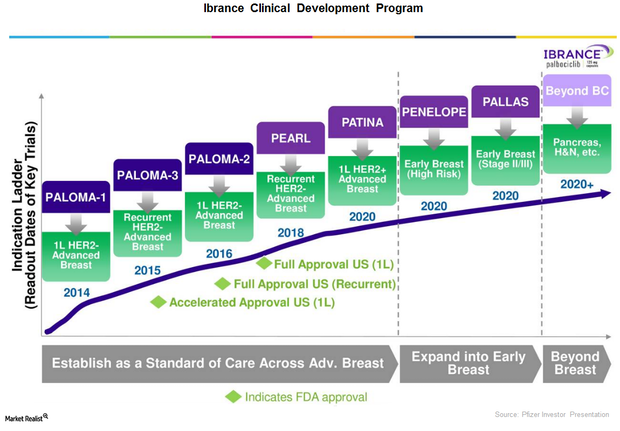 Why Ibrance Could Be Pfizer's Long-Term Growth Driver
Clinical trials with Ibrance
Pfizer (PFE) is extensively conducting clinical trials for the label expansion of Ibrance. The label expansion of the drug should help the company penetrate a larger patient pool.
Pfizer, in collaboration with the German Breast Group, will conduct its Penelope phase-3 trial with Ibrance to evaluate its efficacy with standard endocrine therapy in HR (hormone receptor) positive, human epidermal growth factor receptor 2 (or HER2) normal patients with residual disease after neoadjuvant chemotherapy and surgery.
The primary endpoint of the study is to achieve superior iDFS (invasive disease-free survival), compared with placebo in pre- and post-menopausal women with HR positive/HER2 normal early breast cancer patients who demonstrated less-than-pathological completion responses to neoadjuvant chemotherapy.
Article continues below advertisement
Patina phase-3 trial
Pfizer, in collaboration with Alliance Foundation Trials, will conduct a phase-3 Patina trial. The phase-3 PATINA trial is designed to evaluate and demonstrate that the efficacy of Ibrance in combination with anti-HER2 therapy and endocrine therapy is superior to anti-HER2 based therapy in combination with endocrine therapy alone for individuals with HR-positive, HER2 positive, or metastatic breast cancer.
Pallas trial
Pfizer and the Austrian Breast & Colorectal Cancer Study Group is conducting a phase-3 Pallas trial for evaluating the efficacy of Ibrance in combination with adjuvant endocrine therapy for individuals with HR positive or HER2 negative early breast cancer, compared with endocrine therapy alone.
Pfizer's peers in the metastatic breast cancer drug market include Novartis (NVS), Eli Lilly (LLY), Celgene (CELG), and Roche through its subsidiary Genentech and others. Pfizer makes up about ~6.6% of the Health Care Select Sector SPDR Fund (XLV).