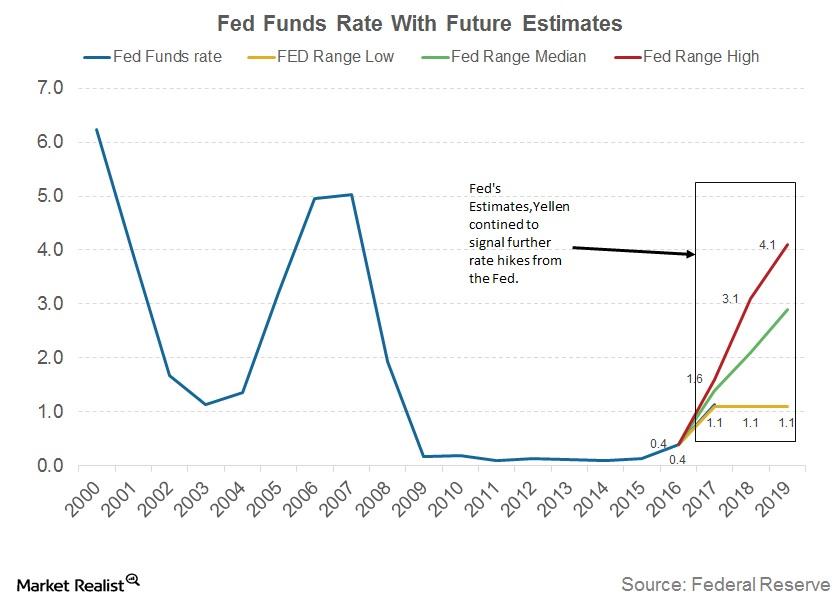 Why Fed's Yellen Feels Gradual Rate Hikes Are Warranted
Yellen's testimony to the US House Financial Services Committee
In her biannual testimony to the US House Financial Services Committee, Fed Chair Janet Yellen stuck to the written statement she released the previous week. The discussions and questions were focused on the current state of the US economy and the Fed's monetary policy action plans.
The tone of Yellen's responses before the committee confirmed that the Fed is set to stay its course on monetary tightening, leading eventually to policy normalization.
Article continues below advertisement
Article continues below advertisement
On monetary policy
Yellen said that the ongoing strength in the US economy will warrant gradual increases in the US federal funds rate, but the rates are likely to remain below long-run expected levels. Yellen stressed that the fallout from monetary tightening has been marginally negative for asset markets, but this is expected.
The committee feels confident that future policy steps will also be accepted by markets in a similar way. Yellen gave the usual caveat that future changes to the interest rate "will depend on economic outlook as informed by incoming data."
Yellen has been cautious in how she replies to questions about inflation. She has termed it as transitory but has emphasized that the Fed would take necessary steps to adjust policy if inflation (SCHP) remains low.
Series overview
In this series, we'll examine the Yellen's latest comments on the US economy, specifically about the unwinding of the proposed balance sheet, inflation (TIP), and unemployment. We'll also discuss the equity (USMV), bond (BND), and foreign exchange markets' (UUP) reactions to Yellen's most recent comments.