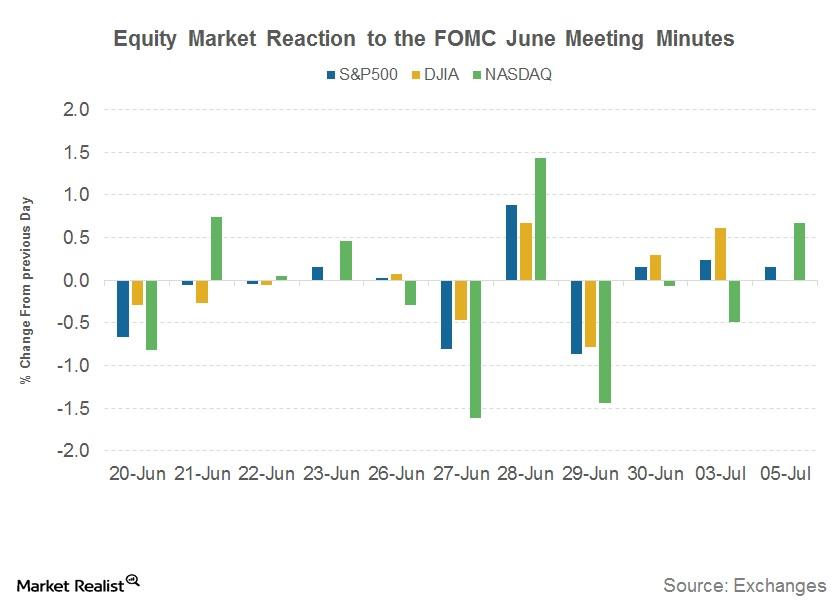 Why Equity Markets Continue to Remain Unaffected by the FOMC
By Ricky Cove

Nov. 24 2020, Updated 4:36 p.m. ET
Equity markets continue to ignore the Fed
The US equity markets (SPY) haven't seen any major impacts from the Fed's policies in the recent past. Investors continue to remain fixated about the possible Trump reforms, which don't seem to be taking shape anytime soon. Yet another failure from the Trump administration to bring the health care bill up for a vote before the July 4 holiday added to the rising doubts about Trump trade. Surprisingly, optimism continues to remain high. 
Article continues below advertisement
In normal market conditions, rising interest rates (TIP) and falling bond markets (BND) are negative for the equity markets. A similar move from the Fed back in 2013 when it started scaling back its QE3, now remembered as the taper tantrum, created a lot of volatility and dragged equity markets (QQQ) lower. So why are markets reacting in a different manner this time? The US economy is now in a better place than where it was in 2013, and the expansionary business cycle warrants gradual rate hikes to prevent the economy from overheating.
Market reaction after the FOMC minutes
Markets in the US remained upbeat after the FOMC minutes, as some uncertainty about interest rates hikes from the Fed could delay future rate hikes. As the FOMC meeting minutes were released during the second half of Wednesday, markets had little time to react. Thursday, however, was a different story with the equity markets (USMV) in the US falling by an average of 0.80%. The hawkish contagion from the ECB and the Bank of England as well as the sudden fall in crude prices on Thursday gave investors some reason to exit their profitable trades.
Will the Fed policy have an impact in the future?
As of now, any Fed-related equity market volatility is likely to be limited. The US Fed, unlike the ECB or the Bank of England, has been successful in signaling its policy in advance and is expected to do so in the future. Markets may only react in case of any surprises from the Fed.
In the next part of this series, we'll analyze how the fixed income and currency markets (UUP) are reacting to the FOMC minutes.