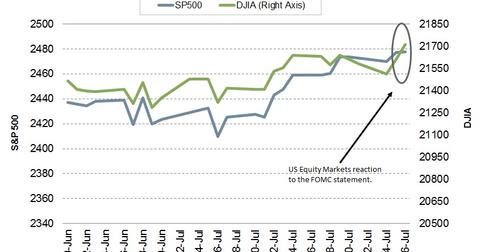 Why Equity Markets Celebrated the FOMC's Statement
By Ricky Cove

Updated
Markets continued to rise
In a week dominated by corporate earnings, which have been driving the US markets (SPY) higher, the FOMC's (Federal Open Market Committee) dovish stance in its July statement sweetened the deal for equity (SCHB) investors.
The prospect of a delay in the rate hikes from the US Federal Reserve added to the positive tone of US equity markets. At the close of business on July 26, 2017, the S&P 500 had risen 0.03%, the Dow 30 (DOD) had risen 0.45%, and the technology sector–heavy NASDAQ (QQQ) had risen 0.16%. Let's try to understand why delayed rate hikes from the Fed are good for the equity markets.
Article continues below advertisement
Interest rates and equity markets
Businesses like lower interest rates because they reduce the cost of funds and help improve profit margins. Higher profit levels can lead to business expansion, the generation of more employment, and the resultant improvement of overall economic expansion.
All this is a long-term scenario, which we've observed over the last ten years as the Fed has kept the federal funds rate close to 0%. Now that the Fed has started raising interest rates, the markets seem worried that the credit climate will tighten. Yesterday's change of tone from the Fed could mean delayed rate hikes and a positive reaction from the markets (IWV).
Earnings to drive markets in the near term
Now that the risks of the Fed's tightening are minimal, equity markets will likely remain focused on corporate earnings in the days ahead. Given the earnings that have been reported so far this season, the party on Wall Street looks set to continue.
In the next part of this series, we'll analyze the positive reaction in bond markets (GBIL) after the FOMC's July statement.