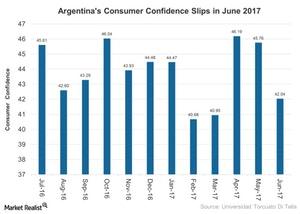 Why Argentina's Consumer Confidence Fell in June 2017
By Mary Sadler

Jul. 14 2017, Updated 9:08 a.m. ET
Argentina's economy
Argentina's President Mauricio Macri's austerity measures seem to be impacting the country's consumer confidence, as it saw another fall in June 2017. Recently, Argentinian consumer confidence hit a bumpy ride with several protests and strikes against unfriendly labor reforms.
Consumer confidence in Argentina fell to 42.0 in June 2017 compared to 45.8 in May 2017. You can see Argentina's consumer confidence trend for the last year in the graph below.
Article continues below advertisement
Consumer confidence in June 2017
Argentina's level of consumer confidence in June 2017 fell to the lowest level since March 2017. Consumer pessimism is evident through its expectations in June 2017, including the following:
The expectation for the country's economic situation was lowered 5.0 percentage points to 54.6.
The expectation for its own personal situation deteriorated 3.0 percentage points to 45.3.
Its intentions to purchase durable goods and properties fell 2.4 percentage points to 26.2.
President Macri's efforts
According to the latest figures, Argentina's economy came out of a recession in 2017 and registered positive GDP growth of 0.30% year-over-year in 1Q17. President Macri's efforts over the last year resulted in many reforms to improve the country's economic stability and credibility. However, his effort to revamp old policies into more stable economic policies has affected the jobs situation and inflation in 2017. The unemployment rate in Argentina rose to 9.2% in 1Q17 from 7.6% in the previous quarter.
Investments
Argentina, a member of the G20 nations, and its peers Brazil (EWZ) and Mexico (EWW) are important to the Latin American (ILF) region. The recent expansion in Argentina's economy in 1Q17 will positively impact the growth of the Latin American region in 2017. However, the slower improvements in economic recovery and its austerity measures seem to be affecting consumer confidence in 2017. The Global X MSCI Argentina ETF (ARGT) fell about 3.0% in June 2017.