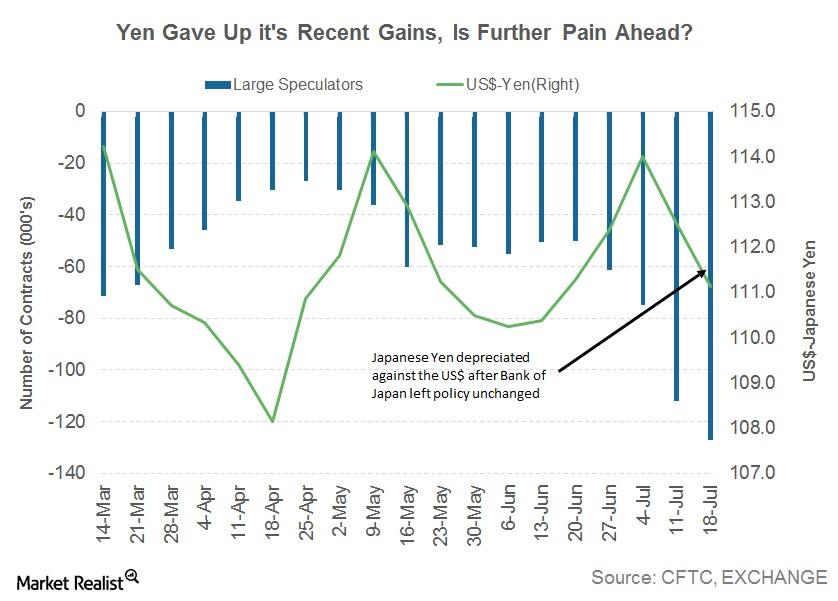 The Japanese Yen Could Keep the US Dollar Company
Another week of appreciation
The Japanese yen (JYN) had another positive week, posting gains of 1.3% and closing at 111.12 against the US dollar (UUP). The previous week's close for the currency pair was 112.53. This strength was primarily driven by the US dollar, rather than positive news from the Japanese economy. Most of the gains in the yen (FXY) came about on July 21, when the US dollar fell compared with most major currencies. The Bank of Japan left policy rates unchanged at -0.10% after its July policy meeting. The central bank said that it would take more time than anticipated to achieve its 2% inflation target, extending the deadline to 2019. This deadline extension was the sixth since the inception of the bank's QQE (qualitative and quantitative easing) program. The inflation estimate for 2018 was downgraded to 1.5% from 1.7%. Japanese equity markets (EWJ) had a mixed performance last week, with the Nikkei 225 (JPXN) posting a weekly loss of 0.09%.
Article continues below advertisement
Article continues below advertisement
No changes to yield curve control
Markets were expecting some changes to the QQE program, but there were none announced. Yield curve control is to continue, targeting 0% at the ten-year mark. Asset purchase will remain steady, at an annual pace of 80 trillion yen.
Yen speculators turned bullish last week. According to the CFTC's (US Commodity Futures Trading Commission) latest Commitments of Traders report, currency market speculators reduced 14,794 short contracts.
Yen will keep the US dollar company
The Japanese economic calendar is light this week, and its price action is likely to be influenced by the US dollar. The US dollar could gain marginally before the Fed's meeting, causing the yen to give up some of the gains it's seen in the last two weeks. The yen's longer term outlook remains negative as the Bank of Japan remains defensive. The yen will likely keep the US dollar (USDU) company as the euro (FXE), the British pound, and other major currencies surge ahead.