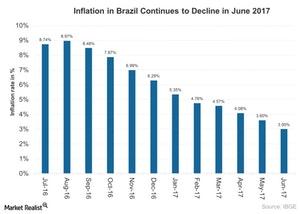 Political Tensions in Brazil: Former President Lula's Conviction
On July 13, 2017, Brazil's former President Luiz Inácio Lula da Silva was sentenced to ten years in prison for graft.
Corruption in Brazil
Many Latin American economies are tainted with corruption within their political classes. On July 13, 2017, Brazil's former President Luiz Inácio Lula da Silva was sentenced to ten years in prison for graft. Lula was the country's most popular politician and seen as a strong prospect for the 2018 presidential election. With his conviction, the presidential race is once again open, creating political uncertainty. The current President Michel Temer is already under legal scrutiny for numerous corruption charges in 2017.
Article continues below advertisement
Article continues below advertisement
Currently, Brazil (EWZ) is emerging from two years of recession and high inflation in 2017. However, inflation has gradually declined over the last year, as you can see in the graph below. Inflation in June 2017 was at its lowest level in the last ten years following the expansion in economic growth in 1Q17.
Consumer prices in Brazil (BRF) rose 3.0% on a year-over-year basis in June 2017 compared to 3.6% in May 2017.
Inflation in June 2017
Inflation for June 2017 in Brazil (BRZU) declined in line with market expectations of 3.0%. Consumer prices fell mainly due to a decline in food and electricity prices. Prices rose at a slower pace for items such as food and beverages, housing and utilities, and health and clothing. Inflation remained steady for transportation and education and rose for personal expenses.
According to the Central Bank of Brazil, inflation development remains favorable in 2017. It expects inflation to be around 3.7% for 2017 and 4.4% for 2018. In its latest report, the central bank said the extension of the monetary easing cycle in 2017 would depend on a number of factors. The expectations of inflation, economic activity, and estimates of the structural interest rates in Brazil (ILF) will be important factors in determining the monetary policy decisions.
Expectations
The recent political uncertainty is expected to delay the implementation of reforms in 2017. Delayed reforms are expected to impact economic activity and the timely reduction in the structural interest rate. As a result, the central bank is expected to have a moderate decline in the pace of monetary easing relative to the current pace adopted in the May 2017 meeting.
On May 31, 2017, the Central Bank of Brazil cut its key Selic rate by 100 basis points to 10.25%. Lower interest rates are expected to improve the Brazilian (EEM) recovery by improving consumption and investments.
The iShares MSCI Brazil Capped (EWZ) fell about 2.0% in June 2017. However, so far in 2017, it has risen about 7.0% as of July 11, 2017.
Let's look next at Mexico.