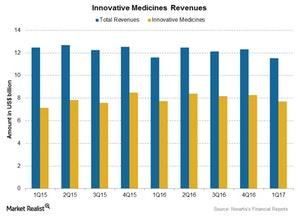 Novartis's 2Q17 Estimates: Innovative Medicines Segment
Innovative Medicines segment
Novartis's (NVS) Innovative Medicines segment includes products for therapeutic areas such as oncology, cardiometabolic, immunology, dermatology, retina, respiratory, neuroscience, and established medicines.
The Innovative Medicines segment includes research, development, manufacturing, distribution, and selling of patented prescription drugs throughout the world. The overall contribution of the segment is ~67.0% of total revenues.
Article continues below advertisement
Article continues below advertisement
Performance of key Innovative Medicines products
Growth products in Innovative Medicines, including Gilenya, Tasigna, Cosentyx, Ilaris, Exjade, Mekinist and Tafinlar, Promacta, Jakavi, Galvus, and Entresto, are expected to report growth in 2Q17.
Gilenya is an oral therapy for multiple sclerosis. Due to the increased demand for Gilenya in the United States and international markets, revenues for Gilenya are expected to rise in 2Q17.
Tasigna, used in the treatment of chronic myeloid leukemia, is expected to report positive revenue growth for 2Q17 following increased demand in both US and international markets.
The Tafinlar and Mekinist combination is used in the treatment of BRAF (a human gene that encodes a protein called B-Raf) V600+ metastatic melanoma. The combination is expected to report revenue growth in 2Q17 due to a strong performance in all major markets worldwide.
Cosentyx, a drug for the treatment of plaque psoriasis, spondylitis, and psoriatic arthritis, is expected to report growth in 2Q17 following the strong demand across various markets.
Medicines losing market share
Some pharmaceutical products such as Gleevec, Afinitor, Lucentis, and Exforge are expected to report lower revenues in 2Q17 than in 2Q16. That comes after the loss of market share due to competition from generic products.
To divest the risk, you can consider ETFs such as the First Trust Value Line Dividend ETF (FVD), which holds 0.60% of its total assets in Novartis. FVD also holds 0.60% in Novo Nordisk (NVO), 0.60% in Sanofi (SNY), and 0.50% in Bristol-Myers Squibb (BMY).