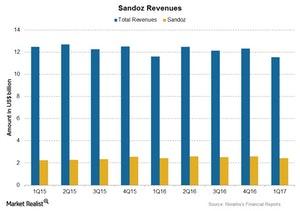 Novartis's 2Q17 Estimates: How Sandoz Might Perform
Sandoz, the generics segment
Sandoz, the generics arm of Novartis (NVS), develops, manufactures, distributes, and sells generic drugs. The segment includes pharmaceuticals and biotechnological active substances. Sandoz contributes nearly 20.0% of Novartis's total revenues.
Revenues for Sandoz are expected to report operational growth in 2Q17 following an increased demand for biopharmaceuticals such as biosimilars and Glatopa, and a continued strong growth in its dermatology products.
Article continues below advertisement
Article continues below advertisement
Biopharmaceuticals
Global sales of biopharmaceuticals, including biosimilars, biopharmaceutical contract manufacturing, and Glatopa, are expected to increase in 2Q17 following strong sales of Glatopa and Zarxio. Glatopa is the first generic version of Teva Pharmaceutical's (TEVA) Copaxone 20 mg (milligram) used for the treatment of relapsing forms of multiple sclerosis. The three in-market biosimilars, Omnitrope (somatropin), Binocrit (epoetin alfa), and Zarzio/Zarxio (filgrastim), are expected to contribute to the growth of biopharmaceutical revenues.
Anti-infective franchise
Novartis's anti-infective franchise is expected to report nearly flat revenues in 2Q17 since the company has discontinued its low-margin products.
Retail generics
Retail generics are expected to report an operational decline following lower sales in the US markets, to be partially offset by an increase in international sales.
To divest the company-specific risks, you can consider ETFs such as the Schwab International Equity ETF (SCHF), which holds 0.50% of its total assets in Novartis. SCHF also holds 0.70% of its total assets in GlaxoSmithKline (GSK), 0.60% in Novo Nordisk (NVO), and 0.60% in AstraZeneca (AZN).