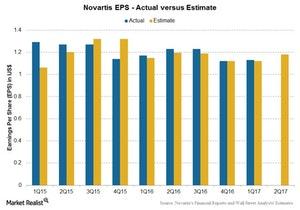 Novartis's 2Q17 Earnings: Analyst Estimates
A look at Novartis's earnings
Novartis is set to release its 2Q17 earnings on July 18, 2017. Analysts estimate EPS (earnings per share) of $1.18 and revenues of $12.3 billion. The above graph shows the comparison of actual and estimated EPS over the last few quarters and estimates for 2Q17.
Novartis (NVS), headquartered in Basel, Switzerland, is one of the largest pharmaceutical companies by revenue. The company specializes in research, development, manufacturing, and marketing of a broad range of healthcare products.
Article continues below advertisement
Article continues below advertisement
2Q17 revenue estimates
Novartis has acquired GlaxoSmithKline's (GSK) oncology business and divested its Vaccines and Consumer Healthcare business to GlaxoSmithKline in March 2015. Considering the adjustments for the divested business, analysts are estimating revenues for 2Q17 to fall 1.6% to $12.3 billion compared to $12.5 billion for 2Q16.
Analysts estimate operational growth in all three segments: Pharmaceuticals; Sandoz, the generic pharmaceuticals business; and Alcon, its eye care business.
Profitability estimates
Analysts' estimates show a gross profit margin of 72.7% for 2Q17. That's a 6.7% rise compared to 2Q16. However, due to higher research and development expenses as well as higher SG&A (selling, general, and administrative) expenses as a percentage of total revenues, the EBITDA (earnings before interest, tax, depreciation, and amortization) margin is expected to fall to 29.4% in 2Q17 compared to 37.6% in 2Q16. Net adjusted income is expected to fall to ~$2.8 billion in 2Q17.
To divest the company-specific risks, you can consider ETFs such as the VanEck Vectors Pharmaceutical ETF (PPH), which holds nearly 6.3% of its total investments in Novartis. PPH also holds 8.6% in Johnson & Johnson (JNJ), 5.1% in Pfizer (PFE), and 4.9% in Merck & Co. (MRK).