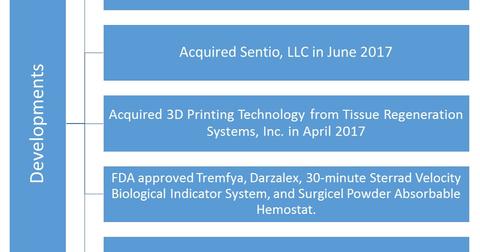 Major Developments for Johnson and Johnson
By Mike Benson

Updated
Major developments
As discussed earlier, Johnson & Johnson's (JNJ) 2Q17 performance was positive across all three of its segments. Let's look at major developments for the company in 2Q17.
Article continues below advertisement
Pharmaceuticals
On July 13, 2017, the FDA approved Tremfya (guselkumab) for the treatment of patients with moderate to severe plaque psoriasis.
On June 28, 2017, the FDA granted priority review of the supplemental new drug application for Xarelto 10mg (milligram) to reduce the risk of recurrent venous thromboembolism in patients who have been on at least six months of standard anticoagulation therapy.
On June 16, 2017, Johnson & Johnson completed the acquisition of Actelion, a leading biopharmaceutical company.
On June 16, 2017, the FDA approved Darzalex (daratumumab) as a combination drug for the treatment of multiple myeloma in patients who have undergone two prior therapies. The treatment includes a combination of Darzalex with pomalidomide and dexamethasone.
On April 28, 2017, the European Commission approved Darzalex (daratumumab) as a combination drug for the treatment of previously treated multiple myeloma. The combinations include the use of Darzalex in combination with lenalidomide and dexamethasone, or bortezomib and dexamethasone.
Medical devices segment
On June 27, 2017, DePuy Synthes announced the acquisition of Sentio, a privately-held company, for its innovative nerve localization technology used in spinal surgery.
On June 21, 2017, the FDA granted clearance to the 30-minute Sterrad Velocity Biological Indicator System used for low-temperature H202 sterilization. The system will enable hospitals to run sterilization processes multiple times per day and reduce infections spread by healthcare devices.
On June 6, 2017, Ethicon announced that the FDA had granted clearance to Surgicel Powder Absorbable Hemostat, which is used during surgery.
On April 20, 2017, DePuy Synthes acquired 3-D printing technology from Tissue Regeneration Systems. The technology helps create customized bioresorbable implants with a unique coating to support the healing of bones in patients with orthopedic and craniomaxillofacial deformities.
To divest risk, investors could consider the iShares S&P Global Healthcare ETF (IXJ) which has a 7.7% exposure to Johnson & Johnson. IXJ also has a 2.5% exposure to AbbVie (ABBV), a 4.4% exposure to Merck and Co. (MRK), and a 4.9% exposure to Novartis (NVS).