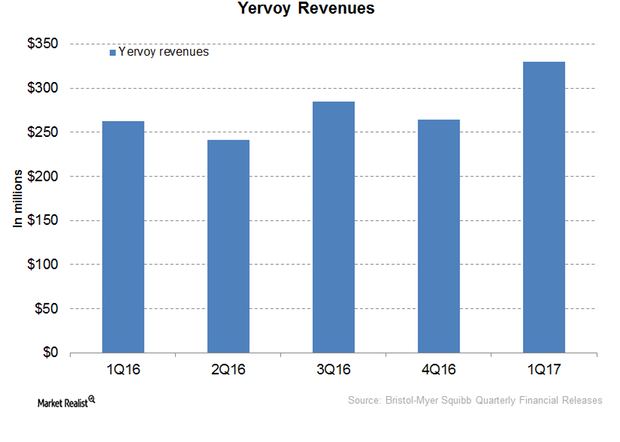 Inside BMY's Yervoy: What the Revenue Trends Tell Us
By Daniel Collins

Jul. 10 2017, Updated 10:36 a.m. ET
Yervoy's revenue trends
In 2016, Bristol-Myers Squibb's (BMY) Yervoy reported revenues of ~$1.1 billion, which represents a ~6% YoY (year-over-year) rise. In 2016, the US accounted for ~$802 million, which represents a ~33% YoY rise.
In 1Q17, Yervoy generated revenues of ~$330 million, which represents ~25% YoY rise as well as a ~25% sequential rise.
Article continues below advertisement
About Yervoy
Yervoy (ipilimumab) is a monoclonal antibody indicated for the treatment of metastatic melanoma. The drug is also used as an adjuvant therapy for patients with cutaneous melanoma having a pathologic connection of regional lymph nodes of more than 1.0 mm who underwent total lymphadenectomy.
In June 2017, the company announced the results of its phase-2 CheckMate-204 trial, which was conducted to evaluate the efficacy of Opdivo and Yervoy combination therapy in patients with advanced melanoma along with brain metastasis. The study achieved its primary endpoint by demonstrating an IC (intracranial clinical) benefit rate, or a complete response plus partial response, plus stable disease for more than six months, or 60% during the median follow-up of 9.2 months among 75 examined patients.
The study demonstrated complete IC in 21% of patients, while 33% of patients had a partial response, and another 5% of patients achieved stable disease. The success in the clinical trial should help in the label expansion and launch of the combination therapy.
In June 2017, BMY also announced its promising results achieved in its phase-2 CheckMate-142 trial, wherein Opdivo-Yervoy combination therapy was evaluated for the treatment of patients with dMMR (DNA mismatch repair deficient) or MSI-H (microsatellite instability-high) CRC (metastatic colorectal cancer) who have received prior treatment.
The study achieved its primary endpoint by demonstrating an objective response rate of 54.8%. The study demonstrated that responses were sustained for up to 15.9 months.
Bristol-Myers Squibb's Yervoy faces tough competition from Merck's (MRK) Keytruda, Roche Holding's (RHHBY) Zelboraf, and Novartis' (NVS) Tafinlar. The Vanguard High Dividend Yield ETF (VYM) has ~0.99% of its total portfolio holdings in BMY.