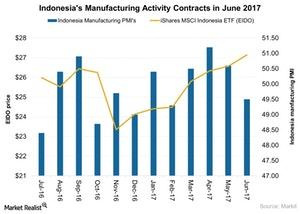 Indonesia's Manufacturing Activity Fell in June 2017
Indonesia's manufacturing activity
The manufacturing PMI (purchasing managers' index) in Indonesia (EIDO) fell to 49.5 in June 2017—compared to 50.6 in May 2017. The factory activity experienced the first fall since February 2017. Output fell for the first time in the last four months. The decline in manufacturing activity in June 2017 mainly resulted from sluggish domestic orders.
Let's look at the manufacturing activity over the past year in the following chart.
Article continues below advertisement
Manufacturing activity in 2017
Manufacturing activity fell back into a contraction in June 2017. The PMI fell below the critical mark of 50. Indonesian (IDX) manufacturing deteriorated in June 2017. Subdued demand conditions resulted in lower production volumes and losses within the sector. On a positive note, new export orders picked up the pace in June 2017. However, total new work remained the same as last month. Orderbook volumes broadly remained steady in June 2017 due to weak demand for manufactured products.
Solid international demand
Article continues below advertisement
Purchasing activity and employment
Purchasing activity remained marginal while manufacturing output and employment fell in June 2017. Buying activity fell, although at the slower pace, for the first time in the last four months. Employment fell for nine consecutive months as of June 2017, but the pace of contraction remained marginal.
Impact
Indonesia's (VWO) manufacturing PMI average for 1H17 remains in expansionary territory despite the recent decline. Manufacturing activity above 50 indicates expansion, which will likely provide a stronger contribution to Indonesia's GDP growth in 2017. For 2017, the economic growth forecast held steady at 5.0%, according to the IHS Markit report for July 2017.
In the next part, we'll look at Indonesia's exports.