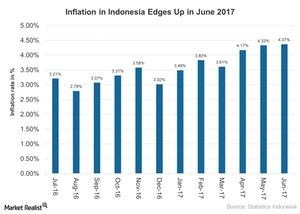 Indonesia Inflation Was Close to the Target in June 2017
Inflation in Indonesia
Consumer prices in Indonesia (EEM) rose 4.4% on a YoY (year-over-year) basis in June 2017—compared to a 4.3% rise in May 2017. Inflation was above the market's expectation of 4.29% mainly due to increased demand during the fasting month of Ramadan and the Eid al-Fitr celebration.
Let's look at the inflation trend in Indonesia over the last year in the following chart.
Article continues below advertisement
Inflation in June
Inflation increased with the rise in several components including raw food, processed food, housing, clothing, health, education, and transport. However, core consumer prices exclude volatile items like food. Core consumer prices rose at a slower pace of 3.1% YoY in June 2017—compared to the market's estimate of 3.2%. Core consumer prices in June 2017 recorded the lowest rise since December 2016. However, month-over-month core consumer prices rose 0.69% in June 2017—faster than a 0.39% rise in the previous month.
Inflation has been under the Bank of Indonesia's target range of 3%–5% since the beginning of 2016. As a result, the Bank of Indonesia lowered interest rates six times since 2016. Inflation picked up in 2017 due to a rise in administered prices related to reduced subsidies for electricity. However, the effects could be temporary, which will likely leave the interest rate unchanged in 2017. Recently, the Bank Indonesia left its benchmark seven-day reverse repo rate steady at 4.8% on June 15, 2017.
Impact on growth and investment in Indonesia
Economic activity is expected to benefit from inflation remaining within the target range and the lower interest rate in 2017. However, external factors are expected to create a headwind in 2017 and impact investments (VWO) (IEMG) (EEMV).
The iShares MSCI Indonesia ETF (EIDO), which tracks Indonesian equities, rose ~2% in June 2017. So far in 2017, EIDO has risen ~12% as of June 30, 2017.
In the next part, we'll look at Indonesia's manufacturing purchasing managers' index.