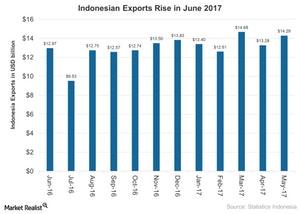 Improved Global Trade Supports Indonesia's Economy
By Mary Sadler

Updated
Indonesian exports
Indonesia's (EIDO) exports were at $14.29 in May 2017—an 8% increase compared to the previous month. On a YoY (year-over-year) basis, Indonesian exports rose ~24.1% in May 2017—compared to the market's growth estimate of 15.3%.
Exports account for ~4.4% of Indonesia's total economic output, according to the International Monetary Fund's April 2017 economic outlook report.
Let's look at Indonesian exports over the past year in the following chart.
Article continues below advertisement
Indonesian exports rise in 2017
As of May 2017, Indonesian (IDX) exports increased for eight consecutive months. There was a faster rise in oil and gas sales compared to non-oil and gas products. Oil and gas exports stood at $1.27 billion in May 2017—a 7.6% increase on a month-over-month basis. On a YoY basis, oil and gas exports rose 32.3%. Meanwhile, non-oil and gas exports stood at $13.02 billion in May 2017—a 6.4% increase on a month-over-month basis. On a YoY basis, non-oil and gas exports rose 23.3%.
Exports in May 2017 grew to the Association of Southeast Asian Nations (ASEA) countries, the EU countries, Japan, the US, India, Australia, and Taiwan. The US (SPY) and China (FXI) are the top export destinations for Indonesian products as of May 2017.
Global policies will impact Indonesian exports
Several external factors are expected to impact the Indonesian economy in 2017. The US government's protectionist stance under President Trump is expected to influence global trade. Also, the Fed's interest rate hike and expected reduction of ~$4.5 trillion in the balance sheet by the end of 2017 will likely impact investments in emerging market economies like Indonesia.
As Southeast Asia's largest economy, Indonesia ran a surplus against the US of ~$13 billion as of 2016. Along with economies like Japan (EWJ) and South Korea (EWY), Indonesia was included under a probe of potential trade manipulation due to its huge trade surplus against the US (QQQ). Any impact due to trade restrictions could impact Indonesia's economic growth in 2017.