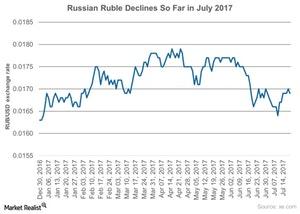 How Has the Ruble Performed in July 2017?
Ruble performance in 2017
The petrol currency, the Russian ruble (ERUS), tends to move in line with crude oil prices (USO) (UCO). The recent slump in the oil prices has impacted the ruble, as it dropped by about 1% so far in July 2017 as of July 20, 2017. The ruble saw the biggest drop in June 2017 of about 4% against the US dollar (UUP) (USDU) since the beginning of 2017. Brent crude oil prices also fell about 5% in June 2017. Let's look at the Russian ruble's performance over last year in the below chart.
Article continues below advertisement
Oil prices in July 2017
So far in July 2017, Brent oil prices have risen in July 2017 by 3% and stood at $49.29 per barrel as of July 21, 2017. The oil prices gained traction after a larger-than-expected fall in crude and gas inventories in the US last week and a surprise drop in distillate inventories. The US commercial crude inventories fell by 4.7 million barrels in the week to July 14, 2017, as compared with analysts' estimates of a decline of 3.2 million barrels, according to Reuters.
Expectations
Oil prices in 2017 are expected to fall in 2017 with rising crude oil production in the US (QQQ). According to several analysts, the rising production in the US has made the oil price recovery harder despite conscious efforts by some OPEC members to limit supply in 2017. The higher supplies from some of the OPEC members including Nigeria and Libya are also making oil's rebalancing act difficult in 2017. However, Nigeria and Libya were exempt from the deal between OPEC and other producers to cut production between January 2017 and March 2018, according to Reuters.
Article continues below advertisement
The slump in oil prices is also expected to impact economic activity in Russia and the ruble in 2017. Crude oil is one of the worst-performing commodities so far in 2017 with a drop of more than 10% so far this year, as of July 20, 2017. The Russian ruble so far has risen about 4% as of July 20, 2017.
Economic sanctions
The expanded economic sanctions on Russia could put more downward pressure on the ruble in 2017. Russian energy producers (XLE) like Rosneft, Gazprom (OGZPY), and Novatek (NOVKY) will feel the impact of increased sanctions with lower access to investments and lower financial flexibility. The expanded Russian sanctions are also expected to impact US energy companies including BP (BP) and Exxon (XOM).
Let's look at consumer confidence in Russia in 2017 in our next article.