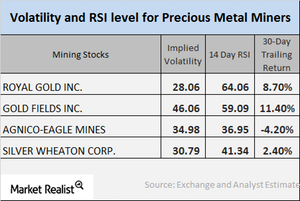 How Has Miners' Volatility Trended in July?
Miners gain strength
Mining stocks have bounced back from the choppy markets seen over the past week. On July 17, most mining stocks saw an upward movement. It's important for investors to understand crucial parameters such as volatility and the relative strength index (or RSI) in order to make sound investment decisions.
In this part, we'll look at some important technical indicators for Royal Gold (RGLD), Gold Fields (GFI), Agnico-Eagle (AEM), and Silver Wheaton (SLW).
Article continues below advertisement
Implied volatility
Call implied volatility measures the change in the price of an asset with respect to variations in the price of its call option. On July 17, 2017, Royal Gold, Gold Fields, Agnico Eagle, and Silver Wheaton had implied volatilities of 28.1%, 46.1%, 35%, and 30.8%, respectively. Volatility in mining stocks is generally greater than precious metals' volatility.
RSI
The relative strength index is used for analyzing whether an asset is overbought or oversold. If an RSI level is above 70, the asset may see a decline in price because it's overbought. If an RSI level is below 30, the asset may be oversold and chances are that the price could rise soon.
Lately, the RSI levels of these four miners have rebounded. Royal Gold, Gold Fields, Agnico Eagle, and Silver Wheaton have marginal RSI levels of 64.1, 59.1, 37, and 41.3, respectively.
Leveraged gold and silver funds like the Direxion Daily Gold Miners ETF (NUGT) and the ProShares Ultra Silver ETF (AGQ) are also influenced by fluctuations in precious metal prices. These two funds fell 6.5% and 5.6%, respectively, on a five-day trailing basis due to the ongoing rebound in miners.