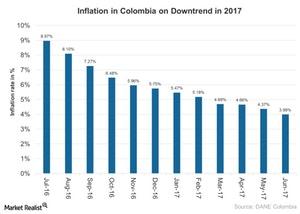 How Colombia's Inflation Is Trending
Colombian economy
The annual consumer inflation in Colombia (GXG) has dropped for 12 consecutive months as of June 2017. The consumer prices rose at 4.0% on a year-over-year basis in June 2017 as compared to a 4.4% increase in May 2017. The slower pace of increase in most of the inflation components resulted in a more gradual rise in June 2017. Let's look at the inflationary trend over the last year in Colombia in the below chart.
Article continues below advertisement
Article continues below advertisement
Inflation in June 2017
The inflation in June 2017 remained below market expectations of 4.0%. The inflation level in June 2017 is the lowest inflation rate seen since January 2015. The cost fell for most of the components including food, housing, clothing, health, education, recreation, transport, and communications.
Easing monetary policy
The reduction in food prices, which began in 2Q16, has resulted in an overall slowdown in consumer prices as of June 2017. As a result, the downtrend in inflation over the last year has led to easing monetary policy in Colombia (ILF) to support economic activity. The lower annual variation in consumer prices and monetary policy easing has resulted in reduced inflationary expectations in Colombia (EEM) for 2017.
As per the Central Bank of Colombia, additional reductions in interest rates could occur in 2017. The lower interest rate is expected to help the inflation meet the target rate of 3% and to boost economic activity in 2017.
The Global X MSCI Colombia ETF (GXG), which tracks Colombian equities, dropped by about 4% in June 2017. The commodity-dependent (USO) (DBC) Colombian economy has suffered due to the slump in oil prices lately, resulting in a negative performance in June 2017. So far in 2017, GXG has risen about 6% as of July 5, 2017.
Let's look at the monetary policy in Colombia in detail in our next article.