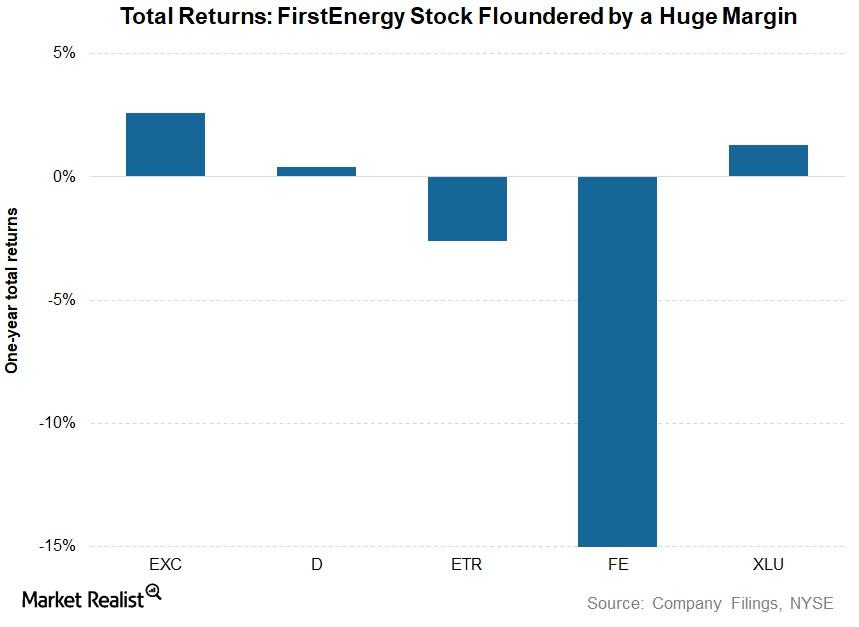 FE, D, EXC, or ETR: Which Utility Stock Stung Investors?
Total returns
Let's return to our evaluation of utilities that are exposed to nuclear generation. In this article, we'll see how these utilities have either hurt or helped investors in the last year. Exelon (EXC) stock has corrected nearly 2% in the last year. Including dividends, its returns have come in at ~3%. In comparison, the Utilities Select Sector SPDR ETF (XLU) has returned 1.3% in the same period.
At the same time, the total returns of the S&P 500 (SPX-INDEX) (SPY) stand at 16% for the period. Total returns consider both capital gains and dividends paid in a specific period.
In the last year, Dominion Energy (D) has returned just 0.4%, while Entergy's (ETR) total returns have come in at -3%. FirstEnergy (FE) stock has corrected nearly 20% in the last year. Including dividends, it's returned -15%.
Article continues below advertisement
Exelon, FirstEnergy, and Entergy are hybrid utilities that derive relatively high portions of their revenues from competitive operations. Because their electricity rates are derived from market forces, their earnings from competitive operations aren't stable, and their stock prices can be volatile. Dominion derives a relatively small portion of its revenue from competitive operations compared to these hybrids.
FE's underperformance isn't directly attributable to trouble in its nuclear generation.
Will utilities see weakness?
US utility stocks have fallen from their recent highs and have corrected more than 5% in the last few weeks. However, utilities' earnings growth and dividend growth could continue to offer an attractive investment proposition for investors.
The utilities sector has been the best-yielding sector among broader equities for quite a long time now. In fact, due to utilities stocks' fair growth potentials, we could even see renewed buying at current prices.
You can compare the dividend profiles of Southern Company and Duke Energy in Utility Titans: Analyzing SO and DUK's Dividend Profiles.