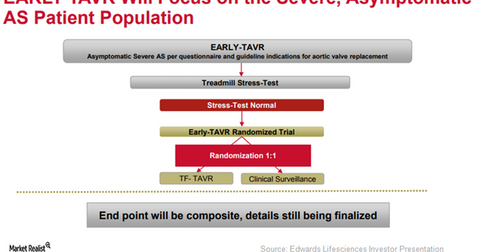 Edwards Lifesciences Focuses on Indication Expansion of SAPIEN 3 in 2017
By Margaret Patrick

Aug. 3 2017, Updated 9:36 a.m. ET
Indication expansion
To further expand the label of its transcatheter heart valve (or THV), SAPIEN 3, Edwards Lifesciences (EW) is currently involved in enrolling patients in its EARLY-TAVR trial. In this study, the company aims to compare the efficacy of SAPIEN 3 versus the best of the other medical procedures in severe asymptomatic aortic stenosis patients.
Currently, this patient population is being put on watchful waiting surveillance until they show some disease symptoms. Edwards Lifesciences estimates that the rate of sudden death in this patient category is about 1%–3%, much lower than the 25% mortality rate associated with surgery. 
With its high efficacy and low mortality rate of 1% demonstrated in safety history trial, transcatheter aortic valve replacement (or TAVR) procedures can prove to be a more viable treatment option for severe asymptomatic aortic stenosis patients.
Article continues below advertisement
If case SAPIEN 3 proves its efficacy in the EARLY-TAVR trial, it may provide a treatment option for around 500,000 severe asymptomatic aortic stenosis patients above 65 years of age. This may benefit Edwards Lifesciences stock and the Vanguard Growth ETF (VUG). Edwards Lifesciences makes up about 0.24% of VUG's total portfolio holdings.
The above diagram shows the design of the EARLY-TAVR trial. The company also plans to study the impact of early intervention therapy with SAPIEN 3 in asymptomatic moderate aortic stenosis patients in the UNLOAD trial.
Lower adoption of stress tests
According to current guidelines, there are three Class 1 indications in which most doctors believe that patients could benefit from surgery or valve replacement procedure. This involve patients with left ventricle failure, those who need another surgery, and those patients who demonstrate aortic stenosis symptoms during a stress test. In the latter group of patients, most are not targeted, as the use of stress tests in the US and Europe is only around 5.7%–6%. 
The reluctance of physicians to ask severe aortic stenosis patients to run on treadmills, lack of infrastructure and skilled expertise at certain heart centers, and low compliance rates in follow-ups have been major factors in low adoption rates for these diagnostic tests.
By targeting this high unmet demand in the asymptomatic aortic stenosis space, Edwards Lifesciences plans to compete more effectively with other TAVR players such as Medtronic (MDT), Abbott Laboratories (ABT), and Boston Scientific (BSX).