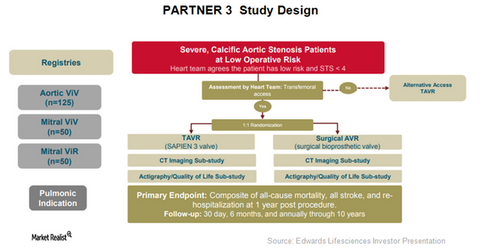 Edwards Lifesciences Focuses on Expanding Market for TAVR Therapy in 2017
By Margaret Patrick

Updated
Market for TAVR therapy
To expand the market for TAVR therapy, Edwards Lifesciences (EW) has developed a three-pronged strategy that involves increasing awareness, expanding indications, and deploying advanced technology. To increase awareness for transcatheter aortic valve replacement (or TAVR) therapy, the company has launched NewHeartValve.com. 
This resource is aimed at helping patients and referring physicians find TAVR centers in particular geographies. In 2015, around 70,000 people had used the website to search for TAVR centers. The website also creates awareness about guidelines and other tools that can be used to treat aortic stenosis patients.
Article continues below advertisement
Through NewHeartValve.com, Edwards Lifesciences has also been answering queries and providing additional information to physicians in the US, Europe, and Japan. If these physician education programs can gain traction and expand the addressable market opportunity in TAVR space, it may have a favorable impact on Edwards Lifesciences stock as well as the iShares Russell 1000 Growth ETF (IWF). Edwards Lifesciences makes up about 0.21% of IWF's total portfolio holdings.
Indication expansion
Edwards Lifesciences expects to complete enrollment in the PARTNER III trial by end of 2017. This study aims to compare the efficacy of TAVR procedure with the SAPIEN 3 heart valve with surgery in severe calcific aortic stenosis patients with a low risk of operation. This indication is expected to secure FDA approval by 2019.
Technology advancement
To study the impact of TAVR therapy on the patient's quality of life, Edwards Lifesciences has incorporated wearable technology to keep track of daily activity of 400 out of the 1,300 patients from PARTNER 3 trial. The company also plans to launch SAPIEN 3 Ultra System in Europe, which involves on-balloon delivery system as well as next-generation sheath, by late 2017.
With a focused strategy, Edwards Lifesciences could pose strong competition to other TAVR players such as Medtronic (MDT), Abbott Laboratories (ABT), and Boston Scientific (BSX).
In the next article, we'll discuss Edwards Lifesciences' near-term product pipeline in greater detail.