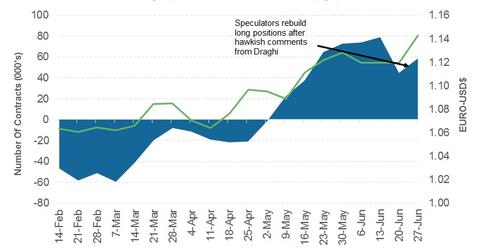 ECB—The Energy Shot for the Euro
By Ricky Cove

Updated
ECB signals exit from quantitative easing
The Eurozone (VGK) ended the first half of 2017 on a stronger note. Economic growth has improved more than expected and the political risks that were threatening the existence of the Eurozone (EZU) have receded. The European Central Bank (or ECB) chairman, Mario Draghi, has hinted at some changes in the days ahead. However, he has refrained from any commitments in that regard.
The ECB retained its accommodative economic policy. Last week's comments signal a change to a neutral stance if there are no negative surprises in the days ahead.
Article continues below advertisement
Euro bulls get an energy shot
Reacting to the hawkish comments from Draghi and a possible exit from the quantitative easing (or QE) stimulus program, euro (EUFX) traders drove the currency (FXE) higher. The Eurozone's shared currency has risen ~2.1% against the US dollar (UUP) in the previous week and scaled a one-year peak of ~1.1% against the US dollar (USDU).
According to the latest Commitment of Traders report published on June 30, 2017, by the Commodity Futures Trading Commission, the net long euro futures positions have increased to 58,695 contracts from 44,852 contracts in the previous week.
Traders are placing their bets on further appreciation of the euro, with the euro-dollar pair expected to test the 1.15 level in the days ahead.
ECB members' speeches and economic data
In this week, ECB members' remarks are expected to take center stage, with Peter Praet, an executive board member of the ECB, scheduled to speak on July 4 and Jens Weidmann, president of Bundesbank, scheduled to speak about the future of the euro on July 6.
As the European economy prepares to report its retail sales and inflation data, another round of positive data could push the shared currency higher.