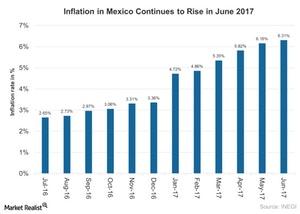 Did Inflation Pose a Huge Concern for Mexico in June 2017?
By Mary Sadler

Jul. 26 2017, Updated 5:06 p.m. ET
Inflation in Mexico
Inflation continues to rise in Mexico (EWW), which has seen a sharp rise since January 2017 amid trade fears. The upward trend in inflation began last year following a sharp fall in the Mexican peso. Consumer prices in Mexico (EEM) surged 6.31% year-over-year (or YoY) in June 2017, compared to their 6.16% rise YoY in May.
Let's take a look at inflation in Mexico compared to last year.
Article continues below advertisement
Inflation in June
Despite its monthly rise, inflation in Mexico (IEMG) stayed below the market's expectation of 6.34% in June 2017. Inflation had risen quickly for 12 straight months as of June. Inflation in June reached its highest level since December 2008, driven by the cost of housing and utilities, food, and energy. Consumer prices rose in January 2017 after the liberalization of gasoline costs. Gasoline prices (DBO) in Mexico rose to $0.87 per liter in June, compared to $0.86 per liter in May.
Prices rose 2.57% for housing and utilities, compared to 2.56% in May 2016. Food, beverage, and tobacco prices rose 6.9%, compared to 6.8% in June 2016. However, costs slowed to 15.2% for energy in June 2017, compared to 16.1% in June 2016. The core index, which excludes some volatile food and energy prices, rose 4.83%, compared to 4.78% in May 2017.
Article continues below advertisement
Expectations
The central bank expects inflation to stay above the 3%–4% target range in 2017 and to touch 3% by the end of 2018. The inflation rate as of June 2017 continues to be double the central bank's target of 3%, which will likely affect consumer spending. Consumer demand is expected to drive the Mexican economy (UMX), and any slowdown in consumer spending will likely affect the country's economic growth in 2017.
Rising inflation is expected to result in more interest rate hikes in 2017, which will likely affect economic activity. The central bank of Mexico (ILF) raised its benchmark interest rate by 25 basis points to 7% on June 22, 2017. The bank adopted a tighter monetary policy to reduce any impact from the peso's depreciation and the possible effects of gasoline price adjustments in early 2017.
Let's look at the performance of the peso in our next article.