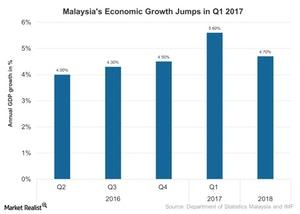 Can Improved Demand Help Malaysia's Economy Expand in 2Q17?
The Malaysian economy
Article continues below advertisement
Malaysia economic growth in 1Q17
The Malaysian (EEM) economy showed strong expansion in 1Q17, as it exceeded the market expectation of 4.8% growth in 1Q17. Private consumption and investments increased at a faster pace, with increased support from government spending.
Private consumption in 1Q17 rose 6.6% YoY, compared with its 6.2% rise in 4Q16. Exports in 1Q17 grew by 9.8%, compared with 1.3% one quarter previously. Imports also rose 12.9%, compared with the 1.6% increase in the previous quarter, while government spending grew 7.5% in 1Q17, compared with the 4.2% decline in 4Q16.
Sector performance
Most of the sectors in Malaysia experienced higher growth in 1Q17 over 4Q16, resulting in an overall improved performance. The agriculture sector grew by 8.3%, compared with its decline of 2.5% in 4Q16, mainly due to a higher growth in palm oil production. The production of palm oil rose in 1Q17 by 17.7%, compared with a fall of 7.2% in 4Q16.
The construction sector grew by 6.5% in 1Q17, compared with 5.1% in 4Q16. The service industry also rose at a faster rate of 5.8%, compared with 5.5% in the previous quarter.
Service sector activity was majorly supported by consumption and business-related services. But the manufacturing and mining sectors increased at slower rates in 1Q17 than in 4Q16.
Expectations
According to the latest IMF (International Monetary Fund) outlook report, the Malaysian economy is expected to grow 4.5% in 2017. The fourth-largest economy in Southeast Asia (ASEA) has been resilient, without seeing many effects from the slump in global commodity (DBC) prices and volatile financial markets over the past few years. Malaysian GDP growth has been in the range of 4%–6% over the past year.
The Malaysian economy is expected to be supported by improved domestic demand and exports in 2Q17. The iShares MSCI Malaysia ETF (EWM), which tracks Malaysian equities, fell ~1% in June 2017.
In the next part of this series (below), we'll assess Malaysia's trade balance.