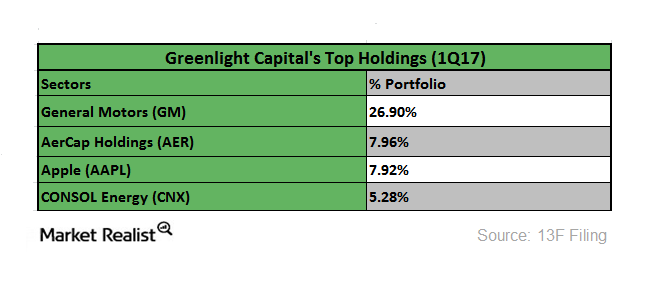 Inside Einhorn's Greenlight Capital's Top Holdings
David Einhorn
One year ago, at the 2016 Sohn Investment Conference, David Einhorn spoke about his shorting bets on US oil drillers. He said at that time, US drilling companies' accounting method was designed in such a way that it wouldn't be able to provide a positive return on capital employed. So shorting these oil drillers would provide good results.
This strategy provided strong returns at that time. Einhorn also said at that time that Pioneer Natural Resources was a "Motherfracker."
Article continues below advertisement
Greenlight Capital's top holdings
Einhorn is the founder and president of Greenlight Capital, a hedge fund. The fund has returned nearly 17.3% in the last four quarters, but its returns fell nearly 1.04% in the 1Q17. Einhorn stated on Friday, July 14, 2017, that his fund fell nearly 4.0% in 2Q17.
According to the latest 13F filings, the top holdings of Greenlight Capital were General Motors (GM), AerCap Holdings (AER), Apple (AAPL), CONSOL Energy (CNX), and Mylan (MYL) as of 1Q17. GM remained one of Einhorn's favorite stocks—one he advised investors to long at the 2016 Sohn Investment Conference.
Some of Einhorn's short position affected the overall performance of the fund. In this series, we'll discuss David Einhorn's long and short position as of March 31, 2017.
Continue to the next part of this series for a closer look at Einhorn's short bets now and how they've impacted the fund's overall performance.