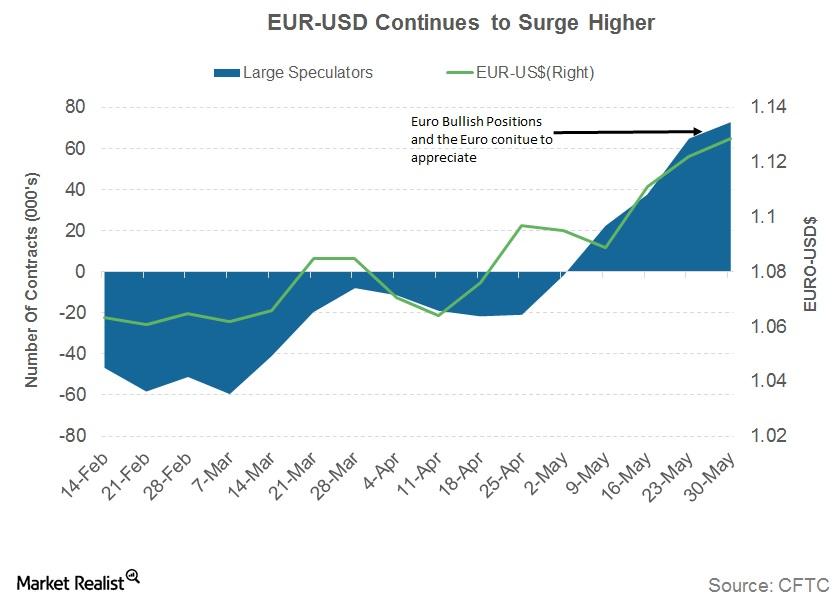 Will the ECB Stop the Surging Euro?
Euro continued to rally higher
Last week (ended June 2), the euro (FXE) continued to appreciate against the US dollar, closing for the week at 1.128, as compared to its close of ~1.118 one week previously. A lower-than-expected addition to the non-farm jobs in the US led to a sharp rise in the shared currency with respect to the US dollar. The euro has now reached its highest level against the US dollar since the US election in November 2016.
European equity indexes (VGK) rallied last week, reflecting the strong bounce in global markets. The German DAX (DAX) closed at nearly 13,000, registering a gain of 1.75% over the previous week, while the Euro Stoxx 50 (FEZ) posted a weekly gain of 0.24%.
Article continues below advertisement
European economic data: a speculative long position?
Economic data from the Eurozone was reported as close to expectations, and manufacturing activity in Germany and EU continue to impress investors. According to the COT (Commitment of Traders) report published on Friday, June 2, traders have increased their speculative positions and remain net long on the European currency.
The total speculative positions increased to 73,000 contracts, as compared to 65,000 contracts the previous week. Speculators are placing their bets for further appreciation of the euro against the dollar going into the ECB (European Central Bank) meeting on June 8.
ECB: in focus this week
The ECB rate-setting meeting is scheduled for Thursday, June 8, and investors are anticipating a change of stance from the ECB. With improving economic conditions across the Eurozone, the ECB is expected to change its stance to neutral from accommodative. The current stimulus program is expected to continue, and there's no likelihood of any announcement on this front.
Overall, the euro is likely to remain supported near 1.12 levels, and with its current positive momentum and a weaker US dollar (UUP), the euro is likely to test higher levels in the near future.
In the next part of this series, we'll discuss how the British pound is prepared for the upcoming UK elections.