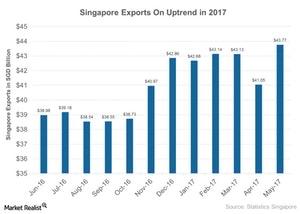 Will Export Resurgence Boost Singapore's Growth This Year?
Global economic recovery
As global (ACWI) (VT) economies continue to improve amid elevated geopolitical risks and policy uncertainty in 2017, Southeast Asian (ASEA) economies expect to remain resilient and have near-term positive outlooks, according to an IMF (International Monetary Fund) report on April 22, 2017.
Specifically, Singapore's economy is heavily dependent on exports, which are likely to be the key drivers of its economic growth in 2017.
Article continues below advertisement
Article continues below advertisement
Exports in May 2017
Singapore's (EWS) exports in May 2017 stood at 43.7 billion Singapore dollars, as compared to 41.1 billion in April 2017. Total exports increased by 6.7% in May 2017, as compared to the 4.9% decline in April 2017.
Exports in Singapore are divided into two major categories: NODX (non-oil domestic exports) and oil exports. NODX declined slightly in May 2017 on a YoY (year-over-year) basis, as the fall in non-electronics was steeper than the growth in electronic exports. But Singapore is the undisputed oil hub of Asia-Pacific (IPAC), and its oil exports continued to grow in May 2017.
Electronics (FLEX) exports continued to surge in May and have now increased for seven consecutive months. However, these exports declined as compared to May 2016, largely due to the decline in exports in April 2017. May oil exports grew by 39.3% YoY, as compared to 39.7% in April, specifically rising toward countries like China (FXI), Vietnam, and Indonesia.
Overall trade and its impact
Total trade in Singapore increased YoY in May 2017, supported by an increase in both exports and imports. Machinery and equipment continue to dominate Singapore's exports, with a share of about 46%, of which electronics constituted about 68%.
According to the recent IMF report, improved global trade is likely to help export-reliant countries like Singapore in 2017. Singapore has the highest trade-to-GDP ratio globally—around 300% as of 2015. Notably, the iShares MSCI Singapore Capped ETF (EWS), which tracks Singapore's equities, has gained about 20% year-to-date as of June 20, 2017.
Now let's look at the Singapore Manufacturing PMI for May 2017.