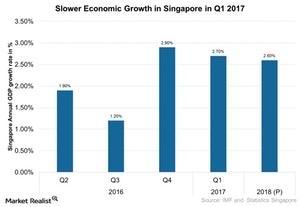 Why Singapore Is Seeing Slow Growth in 2017
Economic growth in Singapore
Economic growth in Singapore (EWS) has slowed down over the past several years, mainly due to the global (ACWI) (VT) financial crisis of 2008, which led to declining trade. Singapore is one of the most advanced economies in Southeast Asia (ASEA) and is currently dealing with gloomy demographics, including an aging population and tighter controls on foreign labor policies.
Singapore's tighter labor conditions are due to the slack in the country's manufacturing sector, which has stemmed from reduced global trade. However, the global economic recovery since 4Q16 is expected to help export-reliant economies like Singapore in 2017.
Article continues below advertisement
Article continues below advertisement
Sector performance
The Singaporean economy grew 2.7% on a YoY (year-over-year) basis in 1Q17, which was slower than the 2.9% it saw in the previous quarter. However, Singapore's GDP in 1Q17 showed stronger growth than the preliminary estimates of 2.5%, primarily due to growth in the service sector. The services sector saw the fastest growth in 1Q17 at 1.6%, as compared to the 1% increase in the previous quarter, and exceeded the market expectation of 1.5% growth.
Manufacturing sector
Singapore's manufacturing sector has posted a slower rise, with growth reaching 8% in 1Q17, as compared to 11.5% in 4Q16. Electronics and precision engineering expanded, largely driven by semiconductors and semiconductor manufacturing equipment (FLEX) (GIGM) .
Article continues below advertisement
Construction sector
Singapore's construction sector contracted by 1.4% in 1Q17, as compared to the 2.8% contraction it saw in 4Q16. The construction sector also dropped below the market estimate of a 1.1% decline, mainly due to continued declines in private sector construction.
Investments
Singapore's government has forecast that its GDP will grow between 1% and 3% in 2017. It expects this economic growth to be above the 2% annual growth in 2017, mainly driven by improved global (ACWI) (VT) growth expectations that support the global trade outlook. However, the threat of protectionist policies, geopolitical risks, and policy uncertainty in the US are likely to impact trade in Singapore this year.
Notably, the iShares MSCI Singapore (EWS), which tracks the most liquid companies in Singapore, has gained about 20% year-to-date as of June 20. EWS has gained slightly more than the iShares MSCI Emerging Markets ETF (EEM), which has gained ~18% during the same period.
In the next part of this series (below), we'll examine Singapore's exports in 2017.