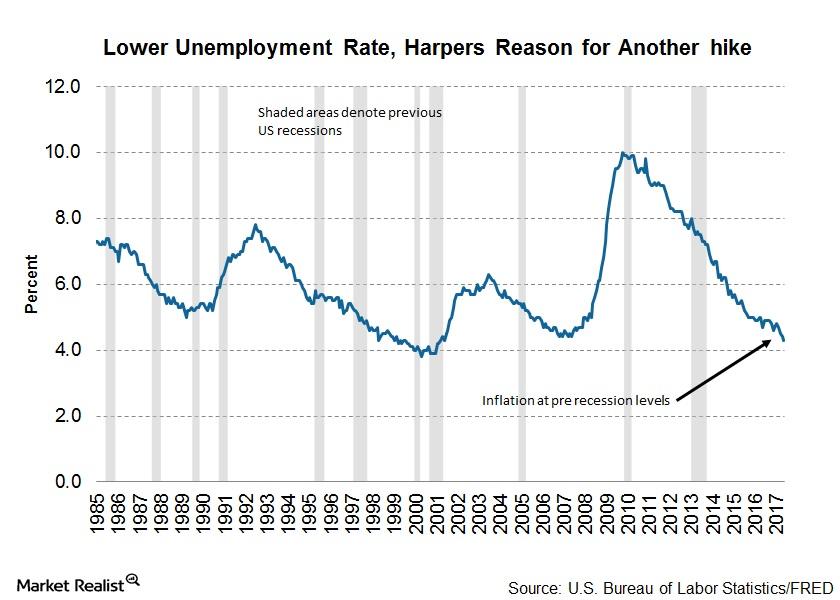 Why Philadelphia's Fed President Supports Another Rate Hike
Balance sheet unwinding could begin in September
In a recent interview with The Financial Times, Patrick Harker, the hawkish president of the Philadelphia Federal Reserve, said that the Fed's balance sheet's unwinding could begin in September 2017. Harker said that the process of unwinding would be predictable and would proceed according to the plan laid out by the Fed in its June 2017 policy statement.
Harker also said that the Fed should stop hiking rates (BND) when the process of balance sheet unwinding begins. He feels that the Federal Open Market Committee (or FOMC) need not rush into its actions if a further slowdown in inflation (TIP) is observed, and he's comfortable with the current unemployment level in the US economy.
Article continues below advertisement
Article continues below advertisement
Another upcoming rate hike
In a conference in London on June 27, Harker backed another Federal Open Market Committee (or FOMC) rate hike in 2017. He believes that US economic growth will continue at an average of 2.3% this year, but he's retracted his previous assertion that inflation (VTIP) will hit the 2% target in 2017. He's pushing this target (SCHP) back to early 2018.
Harker said that the factors that have limited inflation growth are temporary, a view that reflects the sentiment in the FOMC's recent statement. This view justifies the case for another rate hike.
What to make of hawkish Harker's views
If we analyze Harker's recent comments, we can conclude that he remains a hawk. Because he's a voting member of the Fed, his views are considered by the markets (AGG) to be important in forming an outlook about the Fed's policy.
Harker is setting the markets up for another hike this year with the small condition that inflation should move back to the 2% level. With that said, incoming US economic data take center stage. Fixed income and equity markets will be paying a lot of attention to these details in the days ahead.
In the next part of this series, we'll analyze why Boston's Fed president feels it's difficult to fight future recessions.