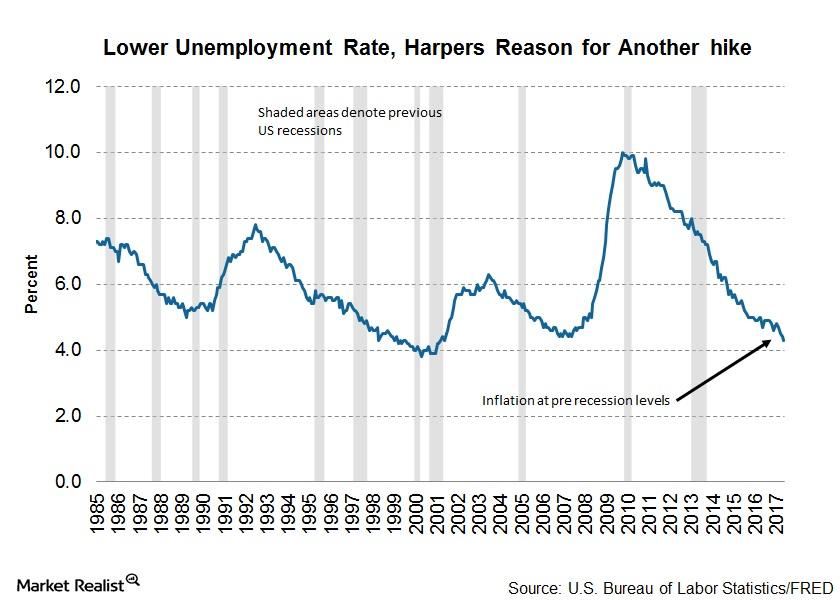 Why Minneapolis's Fed President Voted Against a Rate Hike
Kashkari voted against a rate hike
In an essay published by Minneapolis's Federal Reserve president, Neel Kashkari, after he voted against a rate hike in the Federal Open Market Committee's (or FOMC) June 2017 meeting, he explained why he dissented.
Kashkari highlighted the fact that the unemployment rate had fallen to acceptable levels in recent quarters, but at the same time, the logic of the Phillips curve wasn't in play.
According to the Phillips curve, a tight labor market should translate into higher wages, which should lead to a rise in manufacturers' prices and eventually higher inflation (VTIP). Kashkari argues that inflation (TIP) has been falling in recent months despite the falling unemployment rate, and this disconnect is causing the Fed to miss its inflation (SCHP) targets.
The FOMC has said that a 2% inflation rate would be optimal for price stability, but Kashkari argues that 2% is only a target, not a cap.
Article continues below advertisement
Article continues below advertisement
Kashkari believes the Fed can recover
Kashkari believes that the Fed can recover from what he sees as the small mistake of rising rates (BND) (AGG) too quickly. He says that the FOMC is currently focused on avoiding high inflation because a lower unemployment rate should lead to faster inflation growth. In this scenario, the Fed should wait to see if the recent fall in consumer price inflation is transitory.
Not sounding the alarm
Kashkari says he's not sounding the alarm at this stage of economic expansion. He only wanted the FOMC to wait before the hike, as there are six more months left to achieve its target rate for 2017. Kashkari is in agreement with the FOMC's goal of trimming the Fed's balance sheet, but he would have wanted the process to begin in October or November.
To summarize, most of the FOMC's voting members are continuing to prepare markets for future rate hikes while maintaining that future data will be important to watch. The markets should keep an eye on all US economic data as the guessing game continues.