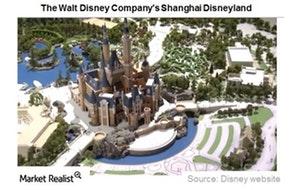 Why China Is Becoming an Important Market for Disney
Popularity of English-language content in China
Media companies in the United States (SPY) are increasingly looking at the Chinese (FXI) market as Hollywood movies become popular there. However, there have also been concerns about box office success in the country. On June 27, The Wall Street Journal reported, citing an unknown source, that the six major Hollywood studios, represented by the MPAA (Motion Picture Association of America), have enlisted PwC to audit box office collections of select Hollywood movies released in China last year.
Article continues below advertisement
Article continues below advertisement
This audit is the result of the studios' concern that their box-office earnings in China could be underreported. The Walt Disney Company's (DIS) movies, such as Zootopia, have been huge hits in the country. Also, the popularity of Disney's movie characters led the company to open Shanghai Disneyland.
Shanghai Disneyland
Shanghai Disneyland has welcomed more than 10 million visitors, exceeding Disney's expectations. As a result, Disney expects that the theme park will break even by the end of fiscal 2017. The company hopes to continue adding new attractions to Shanghai Disneyland, such as Toy Story Land, to boost the theme park's popularity further. Other companies looking at opening theme parks in China include Comcast's NBCUniversal (CMCSA) and Six Flags (SIX).