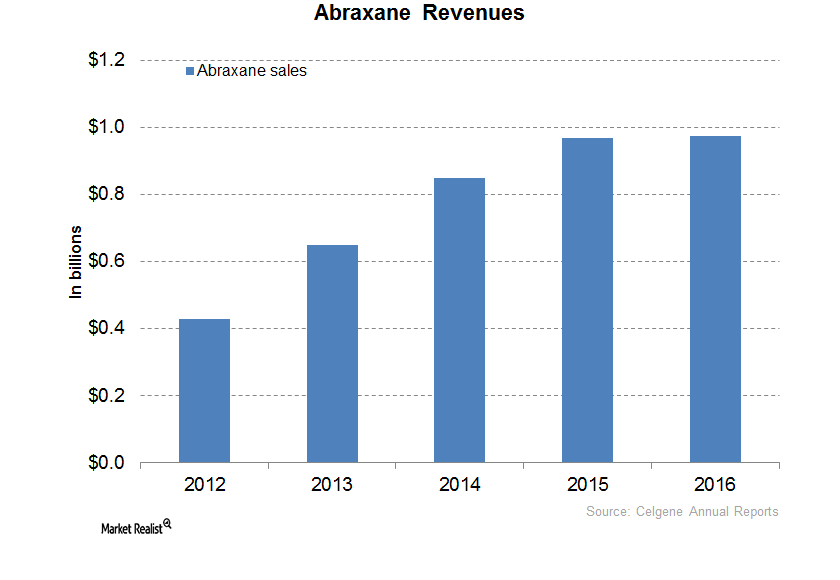 Why Abraxane Could See Steady Growth in 2017
Abraxane revenue trends
In 2016, Celgene's (CELG) Abraxane reported revenues of ~$973 million, which is a ~1% year-over-year (or YoY) growth. In 1Q17, the drug generated revenues of around $236 million, a ~5% year-over-year (or YoY) growth. However, revenues were down 11% on a quarter-over-quarter basis. In 1Q17, the drug also witnessed 16% YoY growth in sales outside the US.
In the US, Abraxane remains the leader in first-line metastatic pancreatic cancer therapy. In the EU, the drug continues to have a high adoption rate in metastatic pancreatic cancer and metastatic breast cancer indications. Celgene expects that in 2017, Abraxane may generate revenues of ~$1 billion. Abraxane's revenue growth may propel the share prices of the Health Care Select Sector SPDR Fund (XLV). Celgene holds ~3.1% of XLV's total portfolio holdings.
The above graph represents the revenue trajectory of Abraxane from 2012 to 2016. To know more about Abraxane's historical trends, please read What Will Drive Future Revenue for Celgene's Abraxane?
Article continues below advertisement
Article continues below advertisement
About Abraxane
Abraxane is a paclitaxel protein-bound particle indicated for metastatic breast cancer patients who didn't respond to chemotherapy. In March 2015, the drug in combination with carboplatin received European Commission approval for the treatment of metastatic non-small cell lung cancer patients who cannot be treated using surgery or radiation therapy. Abraxane in combination with gemcitabine is being indicated as a first-line treatment for patients with metastatic adenocarcinoma of the pancreas.
Factors that may drive Abraxane's revenue growth
Celgene is carrying out its phase-three APACT trial to evaluate nab-paclitaxel and gemcitabine combination versus gemcitabine alone for treatment of resected pancreatic cancer. The data from the APACT trial is expected by the end of 2017.
Celgene is carrying out various other clinical trials for label expansion of Abraxane in areas such as breast cancer, pancreatic cancer, and lung cancer.
Celgene faces stiff competition in the oncology market from Johnson & Johnson (JNJ), Genmab, Roche Holding (RHHBY), Bristol-Myers Squibb, and Amgen (AMGN).