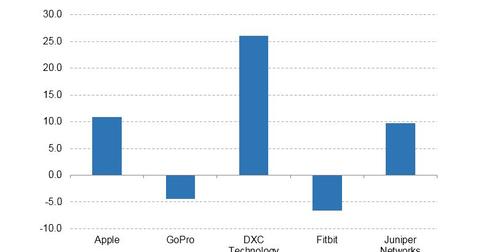 Where Do Apple's Earnings and Ratios Stand?
By Ruchi Gupta

Updated
Apple's financial analysis
Apple's (AAPL) EBITDA (earnings before interest, tax, depreciation, and amortization) margin last year was 31%. This level reflected EBITDA of $69.7 billion, a fall of 2% compared to the previous year. In the current year, Wall Street expects Apple's EBITDA to be $71.8 billion.
Apple's EV-to-adjusted EBITDA (enterprise value-to-adjusted EBITDA) for this year is expected to be 11x. Next year, the company's EV-to-adjusted EBITDA is expected to be 9.7x. Shares of Apple are trading at a price-to-EBITDA multiple of 10.9x.
Peers GoPro (GPRO), DXC Technology (CSC), Fitbit (FIT), and Juniper Networks (JNPR) are trading at price-to-EBITDA multiples of -4.4x, 26.01x, -6.6x, and 9.7x, respectively.
Article continues below advertisement
Analysis of Apple's price and book values
Apple is trading at a price-to-book value of 5.7x. The stock's price-to-sales multiple is 3.4x, while its price-to-estimated sales multiple for the current year is 3.3x.
The company has an EV of $789.6 billion, which implies that it has a current EV-to-trailing 12-month sales multiple of 3.6x. Its EV-to-projected sales multiple for this year is 3.5x, and its EV-to-projected sales multiple for next year is 3.1x.
Apple's credit rating
Moody's rating on Apple's debt is WR (withdrawn rating). The company also has an S&P debt rating of AA+ and a debt outlook of "stable."