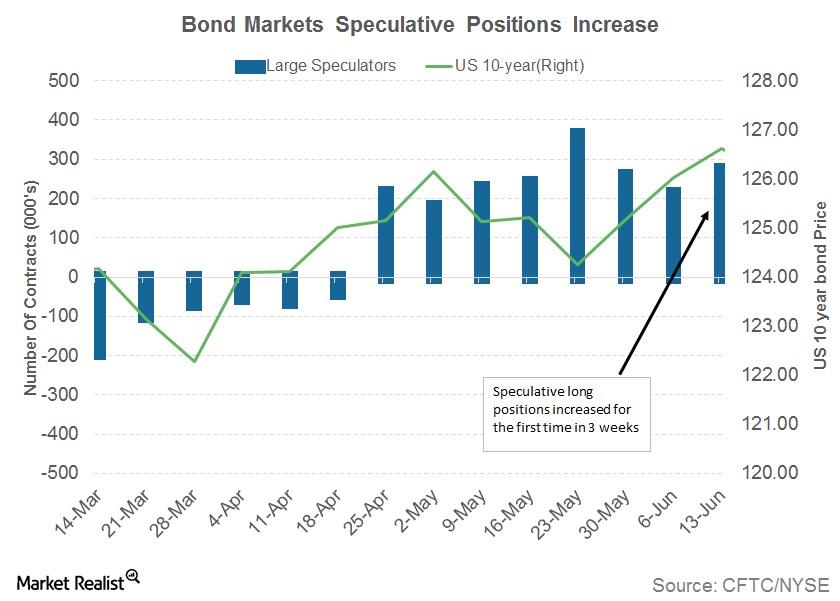 What Does Rise in US Interest Rates Mean for Bond Markets?
Bond prices remained higher while yields dropped after FOMC raised rates
US Treasuries (GOVT) had a mixed response to the FOMC statement and the Fed's interest rate hike. Short-term bonds have reacted aggressively to the Fed's outlook on future rate hikes while the longer term bonds' reaction was muted. A less dovish tone from the FOMC despite slowing inflation growth and weakened economic metrics like retail sales and housing starts could leave traders wondering if the Fed will be able to deliver on its promise of another rate hike this year and three more rate hikes in 2018.
Article continues below advertisement
Article continues below advertisement
Traders' reaction and impact on yields
As per the latest Commitment of Traders (or COT) report, bond traders increased their bullish long positions in the previous week. The total speculative contracts on ten-year US Treasury futures (IEF) that are traded by large speculators and hedge funds stood at 273,969, a weekly gain of 61,903 contracts as compared to the previous week. These figures were released before the FOMC decision was announced on Wednesday, June 14. The impact of the statement is likely to be evident in this week's data as traders could be adjusting to the Fed's hawkish outlook.
Yield curve points to further flattening
The FOMC statement indicated that the Fed is committed to increasing interest rates in the near term. Traders' views in regards to this outlook can be evaluated by looking at the flattening yield curve. Yields in the shorter timeframe like the two-year yield (SHY) and T-notes (SCHO) are rising more than the ten-year or the 30-year (TLT) yields. The two-year and ten-year yield spreads have fallen below the 80-basis-point mark as bond markets are pricing in lower inflation premiums for longer maturity bonds.
This week, bond traders will observe Fed members' speeches to determine whether the June FOMC statement reflects the thoughts of all the Fed members for the near term.