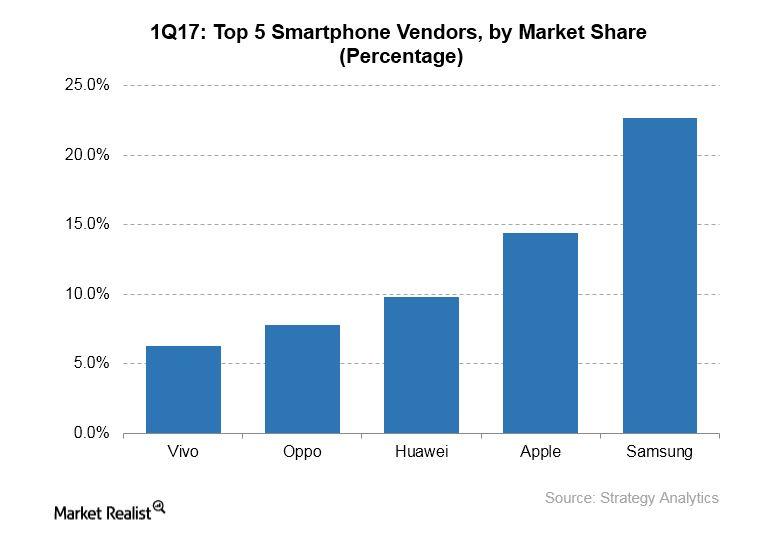 What Can Explain Apple's Fluctuating Smartphone Ranking?
Market expands 6%
The Smartphone market expanded in 1Q17. A total of 353.3 million units were shipped in the quarter, a rise of 6.0% compared to a year earlier, according to research company Strategy Analytics. These shipments built on the 7.0% growth of the Smartphone market in 4Q16, according to research company Gartner.
In the last two quarters, Apple (AAPL) and Samsung (SSNLF) have swapped positions in terms of market leadership. Samsung, with its mix of premium and budget handsets, usually tops its competitors. However, its troubles in 2016 caused it to lose its leadership position.
Article continues below advertisement
Article continues below advertisement
Apple discovers it can't keep Samsung down
Apple held the largest share of the global Smartphone market in 4Q16, besting Samsung with 17.9% against 17.8%, based on Gartner's figures. This razor-thin lead clearly didn't last long.
In 1Q17, Samsung not only regained its top spot as the world's leading Smartphone vendor, it also opened a safe gap between it and its closest competitor. Samsung's share of the Smartphone market stood at 22.7% compared to Apple's 14.4%, according to Strategy Analytics.
Coming in third, fourth, and fifth in Strategy Analytics' report were Chinese (FXI) Smartphone vendors. Microsoft (MSFT) didn't make the top five list.
What led to the position swap at the top?
Samsung rose to the top riding on its Galaxy J series of Smartphones, which proved popular with budget-conscious customers in developed and emerging markets (EEM).
On its part, Apple suffered partly due to Samsung's resurgence and partly due to customers' delaying their iPhone purchases to wait for the next version, which rumors claimed would feature significant design improvements.