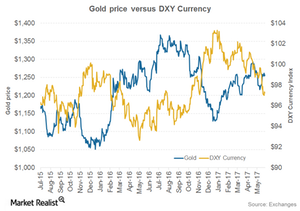 The Ups and Downs of the Dollar and Gold
DXY index
On June 6, 2017, the US Dollar Index (DXY) plunged to its lowest level in the past seven months, which helped dollar-denominated precious metals regain value. DXY tracks the dollar against six major world currencies and fell 0.18% to 96.6.
Notably, DXY has dropped a whopping 2% over the past 30 trading days. During the same period, gold has risen 5.4%. Silver, platinum, and palladium have also seen reasonable rises in price with the fall of the US dollar.
Article continues below advertisement
An inverse relationship
The US dollar and precious metals are inversely related to each other, as the metals are dollar-denominated assets. When investors from other countries see the US dollar falling, they invest in dollar-based assets like gold and silver. The above chart shows us how these two variables have been moving away from each other.
Similarly, if the dollar gains, dollar-based assets get more expensive for foreign investors, and so the demand for the precious metals can be negatively impacted. While these two tend to move against each other, at times they do walk hand-in-hand—if haven demands gets both assets soaring.
Correlation
The correlation between gold (SGOL) (SIVR) and the dollar (UUP) is now almost negative at 21% on a year-to-date basis. The inverse correlation of 21% suggests that about 21% of the time, a rise in the dollar will lead to a fall in gold, while a decline in the dollar could lead to an increase in gold.
Major mining shares also move according to the price changes in the dollar. Such shares include Barrick Gold (ABX), Newmont Mining (NEM), New Gold (NGD), and Alamos Gold (AGI).