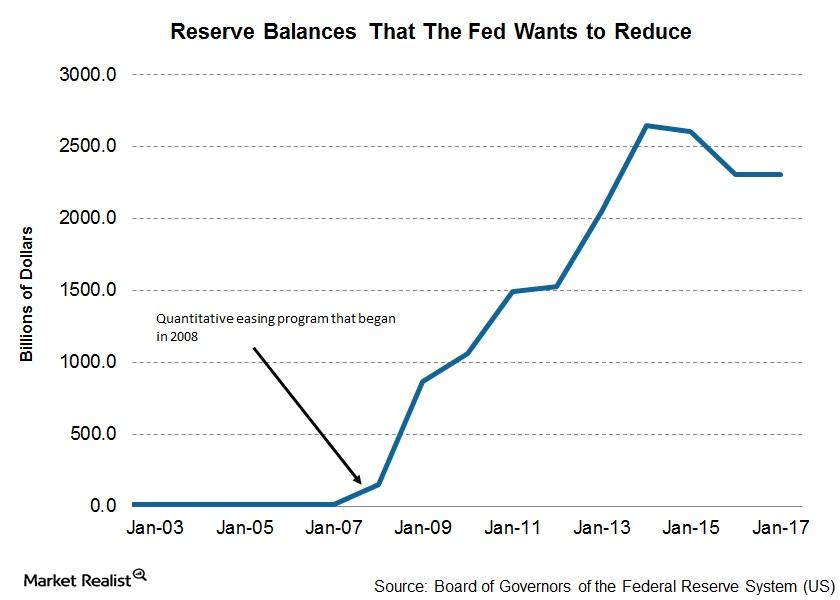 St. Louis's Bullard Thinks Rebalancing Will Take 5 Years
Bullard turns dovish
At the Illinois Bankers Association's annual conference in Nashville, organized on June 23, 2017, St. Louis's Federal Reserve president, James Bullard, sounded dovish about the US economy.
Bullard was of the view that the Fed (AGG) should wait before pursuing further rate hikes considering the negative surprise in recent economic data. Bullard feels that the US economy (BND) could continue growing at a rate of 2%, but he's in doubt about whether inflation (TIP) could reach the Fed's target of 2%.
Article continues below advertisement
Article continues below advertisement
Five years for normalization
On the topic of balance sheet normalization, Bullard said that the Fed's balance sheet could be cut to $2 trillion from its current $4.5 trillion. He said that a $2 trillion balance sheet would be appropriate in the long run and that it could take up to five years for the balance sheet to be trimmed to the desired level.
Bullard was of the view that the process of balance sheet trimming could begin in September 2017, and he didn't think that Trump trade expectations would have an impact until 2018.
Bullard is worried about inflation
According to Bullard, there's "little evidence" to link lower levels of unemployment to increasing inflation (VTIP). With inflation (SCHP) trending lower recently despite a fall in the unemployment rate, Bullard feels that the Fed could stand to wait and watch before its next move. He has also talked about possible reforms in tax, regulations, and fiscal spending to support his view.
Given the current inflationary trend, he said, "The trajectory that the committee has laid out seems to me to be inappropriate."
Bullard isn't a voter in 2017, but his shift from a hawk's to a dove's perspective is to be noted. His worries about slowing inflation could prove to be a challenge for the Fed in the months ahead.