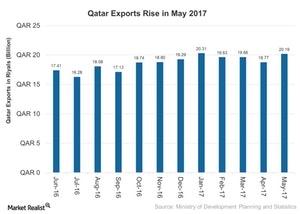 Qatar's Exports Could Rise despite the Crisis in 2017
Qatar exports
Qatar is the largest exporter of liquefied gas (UNG) in the world. Currently, it's facing economic isolation from some of its neighbors including Saudi Arabia, the United Arab Emirates, Bahrain, and Egypt due to its alleged involvement in terrorism. Qatar (QAT) held an ~32% share of the global (ACWI) (VT) liquefied natural gas export market as of April 2017, according to the International Monetary Fund's report.
ExxonMobil (XOM), a major foreign oil and gas company, has operated in Qatar for the last two decades. It has a joint venture with Qatar Petroleum through projects like RasGas and Qatargas.
Let's look at Qatar's exports over the past year in the following chart.
Article continues below advertisement
Exports in May 2017
Qatar's exports stood at 20.2 billion riyals in May 2017—an increase of 8% compared to a fall of 5% in the previous month. The riyal-dollar exchange rate was at 0.272159 as of June 21, 2017. Exports also rose 18.4% on a year-over-year basis mainly due to sales of petroleum gases and other gaseous hydrocarbons and petroleum oils and oils found from bituminous minerals.
Sales of petroleum gases and other gaseous hydrocarbons rose 21.6% in May 2017—compared to the same period last year. Meanwhile, exports of petroleum oils and oils obtained from bituminous minerals rose 13.1% during the same period. Exports to Japan, South Korea, Singapore, India, and China rose in May 2017.
Impact of the Qatar crisis
So far, the Qatar crisis doesn't seem to have impacted liquefied natural gas exports as of June 2017. Liquefied natural gas production in Qatar hasn't been hit by the diplomatic standoff between the two major energy producers.
The United Kingdom (EWU) relies heavily on Qatar for its gas supply needs. Nearly 79% of the United Kingdom's liquefied natural gas imports are from Qatar as of 4Q16. However, the Qatar crisis is expected to impact its exports in the future due to concerns about cost hikes and shipment delays across its trading partners.