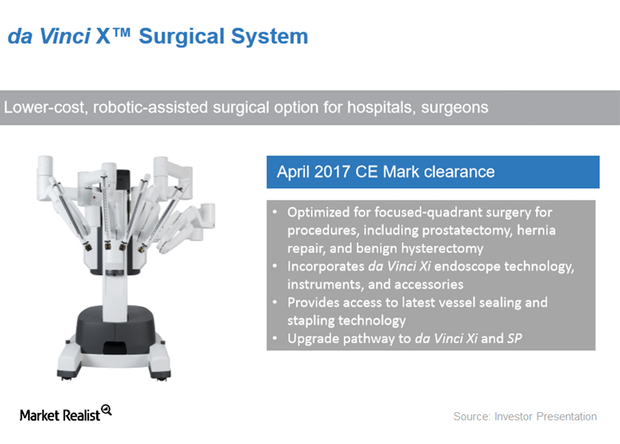 ISRG Expands across Low-Cost Markets with Da Vinci X Launch
Overview
On May 30, 2017, Intuitive Surgical (ISRG) announced that it received FDA (US Food and Drug Administration) approval of its new da Vinci X robotic surgical system. The platform release is now planned for the end of 2017 as compared to the previously anticipated launch in 1H18. This is because the system was approved by the FDA in less than a month after Intuitive Surgical submitted the PMA (premarket approval) application. The system also gained CE Mark approval in Europe in April 2017. The company expects to launch the system in Europe in the current quarter.
Article continues below advertisement
Article continues below advertisement
The da Vinci X system enables focused quadrant surgery. It features 3D digital optics, flexible port placement, and includes the instruments and accessories from the company's da Vinci Xi system. For a brief description of Intuitive Surgical's da Vinci systems, read Delving into the Nuances of the Da Vinci Surgical System.
Low-cost version of da Vinci Xi
Cost-conscious markets are expected to be extremely interested in Da Vinci X, as it is the low-cost version of the company's flagship da Vinci Xi surgical system. Since the device is cheaper than the other Da Vinci surgical systems, the company is better positioned to face the competition from the likes of Medtronic (MDT), TransEnterix (TRXC), and Verb Surgical, a joint venture of J&J (JNJ) and Alphabet, which are expected to launch competing products at lower prices. The Da Vinci X features the advanced da Vinci Xi arms and operating system. However, the system doesn't include the Xi's multi-quadrant access feature. This feature enables the system to reach different body parts without the need to be repositioned.
According to Dr. Gary Guthart, CEO of Intuitive Surgical, "This new system enables access to Intuitive's leading and proven robotic-assisted surgical technology at a lower price point. Customers around the globe have different needs from a clinical, cost and technology perspective; Intuitive's goal is to meet those needs by providing a range of products and solutions: the Da Vinci X System helps us continue to do so."
Investors can get exposure to Intuitive Surgical by investing in the Vanguard Total Stock Market ETF (VTI). ISRG accounts for ~0.14% of the VTI's total holdings.