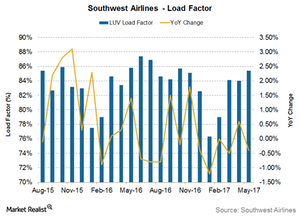 Is LUV on Track to Achieve Its Unit Revenue Guidance?
Utilization falls
The load factor is the most commonly used measure of an airline's capacity utilization. It's calculated by dividing an airline's revenue passenger miles by its available seat miles.
A higher load factor indicates better utilization of aircraft capacity.
Because Southwest Airlines' (LUV) traffic growth lagged its capacity growth in three of the first five months of 2017, its utilization also fell in three of the five months. Utilization fell 1.2% to 76.3% in January and 0.5% to 84.1% in March.
In May 2017, Southwest Airlines' utilization fell over 0.4 percentage points, from 85.8% in May 2016 to 85.4% in May 2017.
Year-to-date (or YTD) in May 2017, Southwest Airlines' utilization fell 0.3% to 81.9%. This fall could prove damaging to its unit revenue if it continues.
Article continues below advertisement
Article continues below advertisement
Yields continue to fall
In stark contrast to its peers Delta Air Lines (DAL), American Airlines (AAL), and United Continental (UAL), which have reported positive yield growths in 1Q17, Southwest Airlines' yields continued to fall.
In 1Q17, LUV's airfare fell 2.6% YoY (year-over-year) to $149.78, leading to a unit revenue fall of 2.8% YoY to 13.3 cents. Legacy players Alaska Air Group (ALK), Spirit Airlines (SAVE), and JetBlue Airways (JBLU) continued to record falling unit revenues in 1Q17.
Outlook
LUV expects this falling trend to change starting in 2Q17. In the quarter, it expects its revenue per available seat mile to rise 1%–2% YoY.
Investors can gain exposure to Southwest Airlines by investing in the First Trust Rising Dividend Achievers ETF (RDVY), which invests 2.3% of its portfolio in LUV.