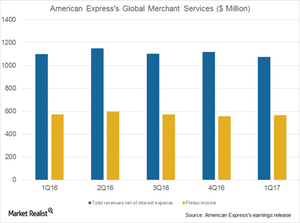 Inside American Express's Global Merchant Services Segment
<p>American Express's (AXP) Global Merchant Services segment is expected to see a marginal increase in its net income in 2Q17.</p>
Expected marginal increase
American Express's (or Amex's) (AXP) Global Merchant Services segment is expected to see a marginal increase in its net income in 2Q17. Amex would benefit from its OptBlue program, but performance would be affected by a decrease in marketing expenses in 1Q17 compared to 4Q16. In 1Q17, the segment's marketing expenses were $32.0 million compared to $61.0 million in 4Q16. It contributed 14.0% to the company's total revenues. Its net income for the quarter was $363.0 million, a 2.0% rise YoY (year-over-year). Its total revenues in 1Q17 were $1.1 billion, a 2.0% fall YoY, clearly reflecting the lack of contribution by Costco (COST).
Global Merchant Services, as the name suggests, acquires merchants and provides data analytics and multichannel marketing programs. The segment also manages a payments network that settles and processes proprietary and non-proprietary card transactions.
Article continues below advertisement
Article continues below advertisement
Partnership with Hilton
American Express (AXP) has successfully entered into an agreement with Hilton Worldwide Holdings (HLT) to expand its partnership from a joint to a sole provider of cards in 1Q17. The expanded partnership will be effective in January 2018. Amex has lost a number of partnerships in recent quarters, including JetBlue Airways (JBLU) and Costco Wholesale (COST). Since 1969, Hilton has been a card-accepting merchant for Amex. Management teams for both companies have a positive outlook on this expanded partnership. They're targeting value creation in the long term for common customers with the help of this expanded partnership. The partnership has positioned Amex well in the market compared to its commercial peers (XLF) such as MasterCard (MA) and Visa (V).