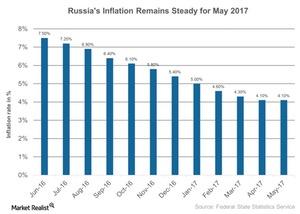 Inflation in Russia Continues to Be Low in 2017
By Mary Sadler

Jun. 7 2017, Updated 5:36 p.m. ET
Inflation in Russia
Inflation in Russia (ERUS) remained steady in May 2017. The only rise was in the price of food compared to the previous month. Inflation has been on a declining trend, nearly reaching the target level of the Central Bank of the Russian Federation. However, in April 2017, the Central Bank reduced its key interest rate by half a percentage point to 9.25%.
The Russian economy (RSX) is showing signs of recovery in 2017, with two consecutive quarters of positive growth as of 1Q17.
In the graph below, you can see Russia's inflation rate over the past year.
Article continues below advertisement
Inflation remains close to target rate
As you can see in the graph, inflation rose 4.1% year-over-year in May 2017. It was the same rate as the previous month and met market expectations. Food inflation rose at a faster pace of ~3.7% in May 2017 compared to 3.4% in April 2017.
Inflation continues to be low for May 2017, supported by a high level of supply and including bumper harvests for 2015–2016, according to data from the Central Bank of the Russian Federation. It's also the lowest inflation rate in the last four years since prices rose at a slower pace for housing and utilities, clothing and footwear, and transportation.
Inflation on a declining trend
Since 2016, the inflation rate in Russia (RUSL) has been on a declining trend from its peak of 12.9% in 2015. According to the Central Bank, inflation that's close to its target of 4.0% is mainly due to the appreciation of the ruble, which was driven by a recovery in oil prices (OIL) and increased foreign investments in Russia (RBL). The ruble seems to be stable so far in 2017 and has appreciated almost 8.0% against the US dollar (UUP) (USDU) as of June 2, 2017.
Next, let's look at the Russian business confidence over the past year so we can understand Russia's market performance.